Est. 1868: Bachelor beware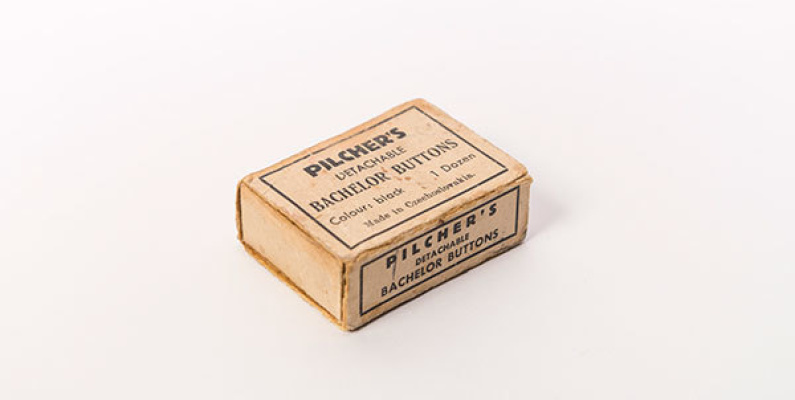 In 1842, bachelor's buttons were defined as wild scabious in John Akerman's A Glossary of Wiltshire Words. Other plants have been called by that name since then, or in different places. Charmingly, bachelor's buttons represented celibacy in Mrs Burke's 1883 Illustrated Language of Flowers.
Mention bachelor these days, however, and it's probably the television "reality" dating show that springs to mind. But last century, and the one before, the word bachelor had a number of less "romantic" connotations, although most of them share the concept of a bachelor as an unmarried – never married – man; eligible, confirmed, or otherwise.
Bachelors were often associated with a degree of domestic incompetence. In 1893, readers of the Tuapeka Times were asked, "Did you ever see a man in the solitude and privacy of his study attempt to sew a button on by himself? It is in all details one of the most interesting performances in the world". [1] After listing the inexpert actions involved, the writer concluded "A woman can, through many outward indications, tell when a man has been trying to sew on a button".   
A series of 19th and 20th century patent applications aimed to solve the problem for those [men] unable or unwilling to sew a button in place competently by traditional methods. In December 1892, for example, J F Platt of Connecticut claimed he had "invented a new and useful Bachelor Button"; one "adapted for special ways of fastening with shank and … snap-action counterpiece". [2]
In 1905, Otto Schulz of Chicago was granted a patent for a design, intended "to provide a button which shall more nearly than heretofore combine the advantages of so-called bachelor-buttons and buttons which are sewed fast to the cloth". [3]
And in 1919, J Waldes "a citizen of the Czecho-Slovak Republic, residing at Prague, Bohemia" was deemed to have invented "certain new and useful Improvements" relating to "buttons of the kind generally known as non-separable or bachelor buttons in which the head or shank members are so constructed that while they may be readily applied to the cloth and firmly connected with each other they cannot afterward be easily separated". [4]
 Image: Box of Pilcher's detachable bachelor buttons. Gift of Helen Bissland; Otago Museum Collection. G2007.319. By Kane Fleury © Otago Museum.
Head to est. 1868 and you'll be able to view a small cardboard box containing bachelor buttons. While they may seem quirky to us now, they had plenty of practical contemporary appeal. In both world wars they were among the items in demand by groups preparing the sewing kits soldiers needed to undertake clothing repairs. WWI gift packs containing socks, boot-laces, bachelor buttons and safety pins were sent to England for distribution to troops. [5] Early in 1942, New Zealanders were advised that provincial patriotic councils would be asked for help in making up 70 000 small sewing kits for the army, navy and air force. [6] Items requested included safety pins and bachelor buttons.  
Memories of the successful racehorse, Bachelor's Button, (by Winkfield out of Milady) in the first decade of the 20th century might (or might not) have inspired the following advertisement for the actual buttons:
"Men! Next month the Grand National will be run in Christchurch, and in the excitement of your horse coming in first a button might give way. If this does happen, our advice is: Carry a packet of AUTOMATIC BACHELOR BUTTONS, and you will not be inconvenienced. Price, 6d per packet of six, posted 1d extra, from VERNON SMITH. Truly, these Buttons are great!" [7]
Joseph Rogers, an assistant public prosecutor in Philadelphia, had something more like a political campaign button in mind when he advocated using "bachelor buttons" to label single men, literally, in 1912. Based in part on his years of experience in the divorce courts, Mr Rogers was reported to believe that, "with single men distinctly labelled… the lack of a label would also mark the married man and prevent him from flirting with unsuspecting girls". [8]
Bachelor buttons were among the surprises included in Christmas puddings. One advertiser alleged "Christmas is coming. Rings, and Thimbles, and Bachelors' Buttons are quite unnecessary. Put Phoenix Thick Peel in your Pudding. You will be charmed". [9]
While we're on the subject of baking, Norma Carter's 1939 recipe for Bachelor's Buttons biscuits in the Cookery Nook section of her local newspaper sounds delicious. [10] To half a pound of flour, and one and a half teaspoons of baking powder, four ounces each of butter and sugar were added, then two eggs. The mixture was rolled into small balls, dipped in sugar, and baked in a quick oven.
Image: Maud Short's sampler. Gift of Joan Skinner; Otago Museum Collection. G2017.19. By Fiona Glasgow © Otago Museum.
The strongly gendered attitude to domestic work around the late 19th and early 20th century is admirably demonstrated by the sewing sampler stitched by Maud Short in 1894. [11] It shows that while patent applications for bachelor buttons were being lodged, most school girls were being tested on their ability to attach different types of buttons, to work button holes and hook-and-eye loops, to patch, darn, hem, and sew seams.
est. 1868 is open daily at Otago Museum in the Special Exhibitions Gallery, 10am to 5pm, until 14 April 2019. Entry is free.
---
[1] Tuapeka Times, 15 February 1893:3.
[2] Platt, F, 1892. Bachelor button. US Patent 488, 219A.
[3] Schulz, O C, 1905. Removable self-fastening button. US Patent 802, 664.
[4] Jindrich, W, 1921. Button. US Patent 1,375,873.
[5] Auckland Star, 27 August 1915:4.
[6] Auckland Star, 14 March 1942:4.
[7] Evening Star, 23 July 1928:12.
[8] Mataura Ensign, 28 March 1912: 7.
[9] Evening Star, 20 December 1904:2.
[10] Northern Advocate, 8 August 1939:2.
[11] White, M and Stella Lange. 2017. "Maud Short's sampler". Context 35:37-44.
All newspapers quoted were accessed through Papers Past, copyright to the National Library of New Zealand Te Puna Mātauranga o Aotearoa.  
Top image: Box of Pilcher's detachable bachelor buttons. Gift of Helen Bissland; Otago Museum Collection. G2007.319. By Kane Fleury © Otago Museum.