Development of Museum's new science centre set to begin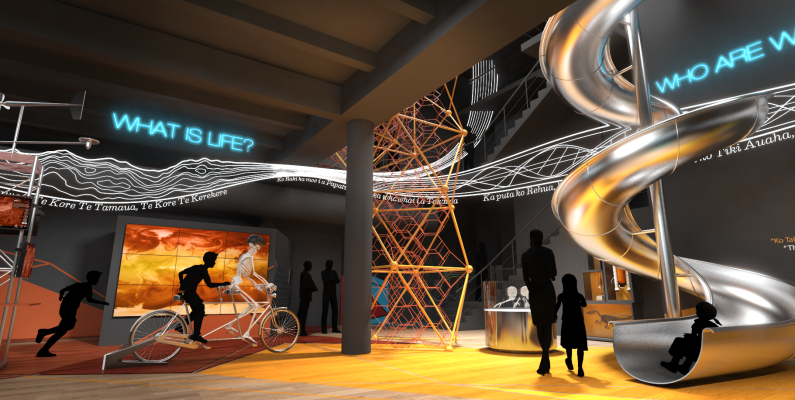 Image: CONCEPT ONLY ©2014 Story Inc/Otago Museum 
Otago Museum's popular Discovery World Tropical Forest will be closed following the July school holidays to allow construction to begin on the second stage of the development of its highly anticipated science centre.
Reopening in December this year, the Museum's latest attraction, supported by $500,000 in funding from the Otago Community Trust, will be home to 50 new science interactives and a refreshed Tropical Forest butterfly house. The centre will also encompass the world-first, digitally interactive Beautiful Science Gallery and Perpetual Guardian Planetarium, which were both completed in December 2015 during stage one of the project.
The Museum's Search Centre has already closed as this space will also become part of the new science centre footprint.  
Otago Community Trust chief executive Barbara Bridger is pleased to be supporting the Otago Museum in its aim of providing New Zealand's leading science centre.
"The interactive, multicultural facility will offer amazing hands-on experiences that inspire curiosity about our world, and lifelong learning. It will certainly be something special for Otago."
One of the feature interactives to be revealed on opening is a DNA-inspired slide, funded by a $100,000 grant from The Lion Foundation. The six metre-high slide will become one of the most recognised symbols of the new centre, not only creating a striking visual element, but challenging people with feelings of fear, expectation, achievement, accomplishment and success.
"Without the generous support of funding bodies such as Otago Community Trust and The Lion Foundation, we wouldn't be in a position to deliver a world-class science hub of this nature, with so many brilliant interactive exhibits for our visitors to enjoy," says Otago Museum Director, Dr Ian Griffin.
Head of Partnerships at The Lion Foundation, Marcus Reynolds, is pleased to be behind an asset that will encourage young people to explore and have fun with science.
"The Lion Foundation is happy to support the Museum's science centre and its overarching vision of encouraging and facilitating lifelong learning," says Reynolds.
Image: CONCEPT ONLY ©2014 Story Inc/Otago Museum 
The official name for the redeveloped centre will be announced at a later date.
The Museum is opening its new international touring exhibition Life before Dinosaurs: Permian Monsters on Saturday 26 August. Timed to complement the closure dates of Discovery World Tropical Forest, visitors will be given an insight into life 290 million years ago when bizarre-looking animals dominated life on land and sea. A 'monster' combo will be offered for people wanting to enjoy both the latest exhibition and a show in the Perpetual Guardian Planetarium.