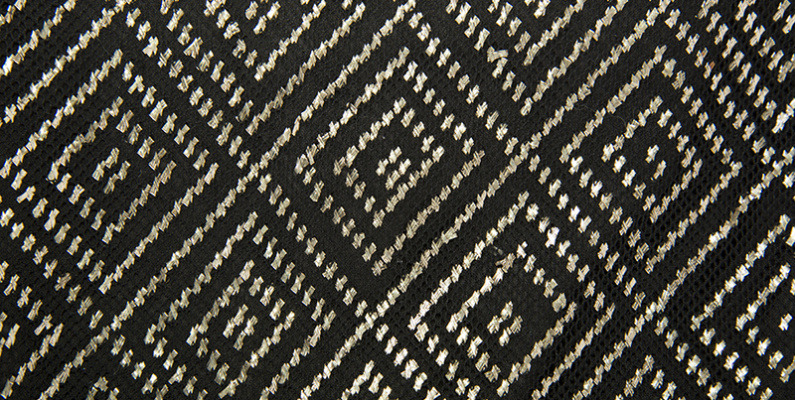 While fashion is subject to rapid and continual change, it doesn't always look straight ahead. Fashion's ongoing dialogue with its own past leads to the seeking out of what is perceived to be new, novel and sometimes exotic from other time periods and cultures.
Since Cleopatra stole the hearts of Julius Caesar and Marc Antony, the Western world has been mesmerised by the ancient world of Egypt. The discovery of Tutankhamun's tomb in 1922 unleashed an unprecedented surge of Egyptomania during the age of the flapper. The opening of the boy pharaoh's tomb caused an international press frenzy and photographs from the excavation were beamed across the world. It undoubtedly had an aesthetic impact. 'Tut-mania' captured the public's imagination and there was suddenly an appetite for garments and accessories that adopted Ancient Egypt-inspired motifs, textiles, patterns and colourways.
Image: Woman's coat made from tulle-bi-telli, 1920s. Gift of Elizabeth Errington; Otago Museum Collection 
This 1920s woman's coat could be attributed to the Egyptomania phenomenon. Made from Assuit cloth, also known as tulle-bi-telli, it uses an openwork mesh fabric interwoven with cut metal strips to produce a geometric pattern. Traditional examples of tulle-bi-telli are black or white, with black being more common. By the end of the 20th century the colour palette expanded to attract an international market.
The fabric is usually knotted with strips of brass, copper, silver or gold, however sometimes cheaper metals were plated with gold or silver to achieve the shimmering effect. Today the cloth is also being constructed with commercially produced steel or plastic strips that have a metallic finish.
Assuit cloth is characterised by its technique as well as the intricate geometric patterns it produces. Designs include stylised floral motifs, trees, and women with children. In the late 20th century the range broadened to feature stars, sunbursts, foliage, hearts and camels. 
Part of the Current exhibition development process was to invite nine contemporary creatives into Otago Museum's textile collection to choose an object they felt most inspired by. Artists chose their inspiration source from a preselected pool of items chosen by Museum curators on the criteria of aesthetics, technique and provenance. This Assuit cloth coat was chosen by Honorary Curator of European Clothing and Textiles Dr Jane Malthus as a potential option.
While the coat was not used by anyone as their primary source of inspiration, many were attracted to its embroidery technique as well as its striking pattern. Maybe the coat was alluring because of the sense of exotic it embodied, for the same reasons the West has found Ancient Egypt exotic and fascinating for more than 2,000 years.
International specialist Madelyn Shaw, Curator of Textiles at the National Museum of American History, Smithsonian Institution, will speak about exoticism in fashion on Sunday 30 April at Otago Museum. Her illustrated talk will explore our taste for the romance of exoticism and how it continues to influence fashion today.
Everyone is welcome to come along to this free talk in the Hutton Theatre at 2pm on Sunday 30 April, and to visit the Current exhibition in the Museum's 1877 Gallery.