est. 1868: The story behind our Balmain dress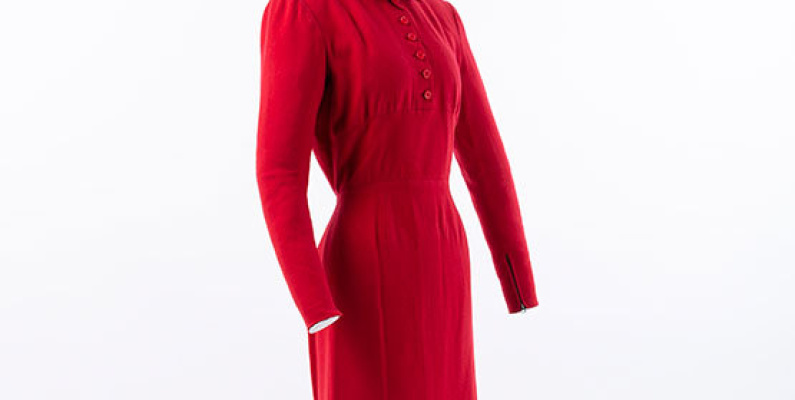 "A garment made by Pierre Balmain was the very quintessence of haute couture," according to Vogue editor Diana Vreeland.
The beautifully cut, red wool dress with heavily padded shoulders is rare in this part of the world. Made in 1948 by the renowned French couturier Pierre Balmain, several people and institutions played roles in the story of its presence in the Otago Museum collections.
Miss Avice Bowbyes, head of the Clothing Department at the then School of Home Science at the University of Otago, first set eyes on this dress when she attended the Pierre Balmain couture show of 17 August 1948. She described his collection of 120 garments thus:  "… his silhouette is slender and close fitting, but with a sudden flare at the knee, particularly at the back of the skirt, usually described as his fishtail effect."
Image: Dress designed by Pierre Balmain. Paris, 1948. Gift of the New Zealand Wool Board; Otago Museum Collection. G86.212. By Kane Fleury © Otago Museum.
This dress certainly encapsulates the look of that show. Miss Bowbyes was on a study leave in Europe and US that year and was lucky enough to receive entry to the Paris couture shows from the organising body of couture, La Chambre Syndicale de la Couture Parisienne. She also went to shows at the houses of Jeanne Lanvin, Christian Dior, Jacques Fath, Robert Piguet, O'Rossen, and Worth.
In the late 1940s, the New Zealand Wool Board was making a collection of couture created from wool fabrics, to show New Zealanders that wool could be used to create fashionable, stylish outerwear and evening dresses. When Avice learnt that this red dress and two Robert Piguet designs had been purchased by the Wool Board, she approached Dr Lund, the chairman in London, to ask if the three garments could come to the School of Home Science when the Wool Board had finished with them. They were duly sent to the Wool Board representative in New Zealand marked "not for sale – to be given to the School of Home Science".
There they were used as part of the teaching resources, illustrating the high standards of design and construction of the couture industry, techniques of which were taught in clothing courses. In the 1980s, when those courses were radically overhauled, these garments were passed onto Otago Museum so that they could continue to be seen and researched.
The designer of the red dress, Pierre Alexandre Claudius Balmain, was born in 1914. His father was a draper and his mother ran a fashion boutique with her sisters. Pierre studied architecture first, selling fashion drawings on the side. However, he left his studies and worked for the designer Edward Molyneux in the 1930s for five years, then for Lucien Lelong, alongside Christian Dior, during World War Two. He opened his own design house in 1945, when he showed long, bell-shaped skirts with small waists (like the 1947 "new look" but two years before).
Balmain created an international following by touring Australia in 1947 and successfully selling ready-to-wear in the US from 1951. He also designed for high-profile actors and royalty to keep his name in the public arena. In the 1950s he was counted among the "big three" French designers, with Christian Dior and Jacques Fath. Later in his career he designed Winter Olympic and airline uniforms, costumes for Broadway plays, and French and American films. His clothes were always sophisticated and elegant, and sometimes elaborately embroidered. Balmain's chic and structured designs didn't appeal to the younger buyers of the 1960s, so his star waned. He died in 1982. The House of Balmain continues though, with designers such as Oscar de la Renta, Christophe Decarnin and currently, Olivier Rousteing.
On her return from her 1948 study leave, Miss Bowbyes was quoted as finding the "dreary monotony of women's clothing" (NZ Free Lance, 5 June 1949, p4) in New Zealand overwhelming, which prompted many outraged responses, since this was still soon after World War Two. One from the New Zealand Garment Manufacturer's Federation (NZGMF) tried to explain that the fault lay with the system of import licensing then in place. Import licenses were based on value, an amount of overseas funds, so manufacturers had to buy their supply of material within that amount. If they spent it all on expensive materials, like the red wool twill weave of the Balmain dress, they ended up with less yardage. A system of ceiling prices imposed by the "price control division" also operated and included a maximum expenditure on labour and trimmings which could be put into a garment. According to NZGMF, the policy "amounts to direct interference in fashion".
Miss Bowbyes continued to receive invitations to Pierre Balmain shows and to receptions by the International Wool Secretariat, such as one held in 1964/5 in honour of wool in haute couture. She went back to Paris in 1955 to study couture dressmaking and tailoring techniques at the school attached to the Chambre Syndicale de la Couture Parisienne. When she retired from the University of Otago in 1961, she taught couture tailoring at the University of Guelph, Canada, and wrote a book on women's tailoring called Suit Yourself.
The Balmain dress is currently on display in est. 1868, open daily in the Special Exhibitions Gallery, 10am to 5pm. Entry is free.
---
Thanks to Otago Museum, Hocken Archives and Vogue. 
Top image: Dress designed by Pierre Balmain. Paris, 1948. Gift of the New Zealand Wool Board; Otago Museum Collection. G86.212. By Kane Fleury © Otago Museum.