Here be monsters: Giant Squid from the Catlins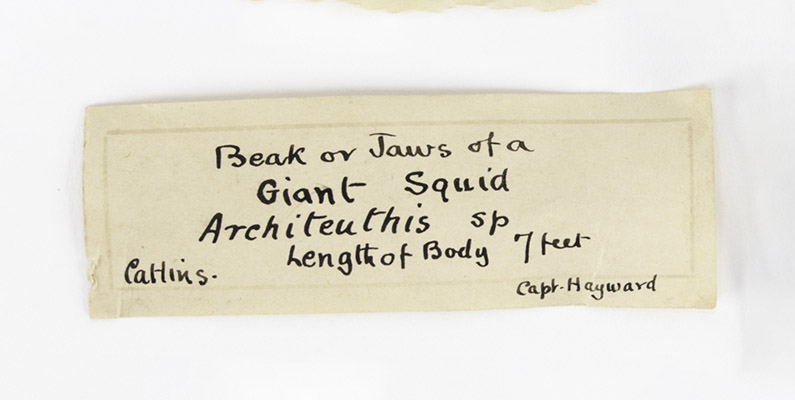 The giant squid (Architeuthis dux) is the second* largest cephalopod in the ocean. Researchers believe that giant squid can attain a size of 13 metres length (mostly tentacles) and weigh 250 kilograms within three years of their birth. Squids have a beak at the base of their body that is surrounded by tentacles and is the most enduring body part of giant squids, a species whose biology is still shrouded in mystery due to it living in deep oceans around the world.  



Image: Beak of a giant squid (Architeuthis sp). IV119151 © Otago Museum 

During a recent inventory of the collection stores at the Otago Museum, we came across a brightly coloured beak with a label that immediately caught our eyes. The label reads:  
"Beak or Jaws of a Giant Squid 
Architeuthis sp 
Length of Body 7 feet 
Catlins.  
Capt. Hayward"

Captain Charles Hayward was the Harbourmaster for the Catlins River from 1872 to 1887 and is remembered for his role in transporting the first sawmill to the Catlins in 1865 and assisting passengers of the Surat, an immigrant ship that wrecked across the bay from his signal station on New Year's Day 1873. A further search of Otago Museum registers reveal that this beak was acquired by the first curator of Otago Museum, Captain Frederick Wollaston Hutton, in 1878. So, not only is this an extremely cool specimen, it is also very old! 



Image: The Alecton attempts to capture a giant squid off Tenerife in 1861. Illustration by Alfred Moquin-Tandon in Le Monde de la Mer (1865). Public Domain

The first scientific description of a giant squid (Architeuthis) was in 1857, so the species was still new to science when its body was found in the Catlins. Almost everything we know about giant squid is from studying their dead bodies as they wash ashore or from chance encounters by deep sea fishing vessels. The discovery of beaks from giant squid and other deep sea cephalopods in the stomach of a sperm whales (Physeter species) provided definitive evidence of a story that sounds even more fantastic, one of giant animal hunting another giant animal – a clash of the titans. 
Giant squids and sperm whales are both found in New Zealand waters. Sperm whales are known to visit submarine canyons – steep, deep water valleys that descend from the shallow continental shelf to the deeper abyssal plains – in their search for food. A number of these canyon ecosystems are found along the east coast of New Zealand's South Island near Kaikoura and the Otago peninsula. Many squid species live in those canyons and complete a nightly migration from the ocean depths to the ocean surface in search of food under the cover of darkness. Giant squids are also likely hunting other squids and deep sea fishes in those canyons, some only 30km from the New Zealand coastline. Sightings and stranding of giant squid remain rare, but odds are good that one of these mysterious giants will surface ashore again. 
* The colossal squid (Mesonychoteuthis hamiltoni) is the largest cephalopod known to exist and tends to be shorter in total length but almost twice as heavy compared to giant squids. 
Biography of Captain Charles and Agnes Hayward. Toitū Early Settlers Museum. Dunedin, New Zealand. www.toituosm.com/ 
Clarke MR. 1980. Cephalopoda in the diet of sperm whales of the Southern Hemisphere and their bearing on sperm whale biology. Discovery Reports 37, 1–324.  
Evans K, Hindell MA. 2004. The diet of sperm whales (Physeter macrocephalus) in southern Australian waters, ICES Journal of Marine Science 61:8, 1313-1329.  
Judd W. 1996. Hunting the giant squid. New Zealand Geographic, Issue 29.  
Roper C. 2016. Architeuthidae Pfeffer 1900, Architeuthis Steenstrup 1857. Architeuthis dux Steenstrup, 1857 in Tree of Life Web Project. tolweb.org/Architeuthis 
The difference between colossal squid, giant squid, and octopus. Te Papa Tongarewa. Wellington, New Zealand. tepapa.govt.nz/