Historical Kiwi Egg Loan Returned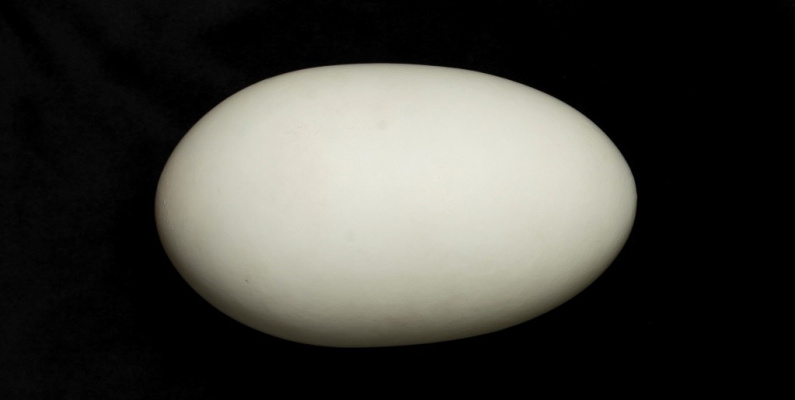 Inside a cardboard box, protected by an inflatable plastic cushion, is a smooth, white kiwi egg with a tiny hole at each end. The number A.12.32 is handwritten on it in black ink. Long ago, someone would have pressed the egg against their mouth and forcefully blown through one of these holes to push the yolk and albumen (egg white) out the other end.  
The kiwi egg was found during a standard inventory of collection material by staff at the University of Otago's WD Trotter Anatomy Museum [1]. People are often surprised to learn that the Department of Anatomy has a long history of studying native New Zealand fauna. While Professor William Percy Gowland was there (~1914 to 1944), he employed staff who conducted non-human research, such as John Cairney, who later studied the tuatara's forebrain, nerves, and heart [2]. Other non-medical students and scientists often visited the department, including researchers who investigated differences in the pelvic anatomy of kiwi, humans, and great apes [3]. Non-human research continues there today [4], with genetic studies of tuatara, lamprey (kanakana/piharau), giant clams, sponges, earwigs, weevils, chickens, and rats (kiore) being conducted.  

Sketch of an expecting female kiwi in the style of an x-ray image. The egg is so large relative to the female kiwi's body size that she is usually unable to eat in the few days prior to laying. Sketch by Emma Burns.  

For study? For teaching? The reason for this kiwi egg's stay at the Anatomy Museum is not well-documented. But this is not unusual, given that Otago Museum and the University were under the same administration until 1955. Thus, collections were often borrowed for teaching with a more casual manner than current practice. Things like gentlemen's handshakes and post-it note promises have created issues for recent curators and collection managers, who work to reconcile these untracked activities with taoka in their collections. 
The number on the egg corresponds with an entry in the Otago Museum A register, one of the collection acquisitions ledger books that detail natural history purchases and donations. This register tells us that the egg is from a North Island kiwi, Apteryx mantelli, and that it was purchased from a Mr. Dale of Waikaremoana in 1912. During this time, the Museum was under the leadership of zoologist Professor William Blaxland Benham.  

North Island kiwi egg AV12314 with register number. Photo: On Lee Lau © Tūhura Otago Museum Collection. 

Mr Dale was the lessee of the government hostel at Lake Waikaremoana, Te Urewera National Park [5]. It was built in 1900 at Whaititi Headlands, replacing the earlier lodging house built in 1874 to accommodate the Crown's armed constabulary in Urewera [6]. By 1909, the Lake House was an official government hostel for tourists to the area, and in 1912 it would play host to prominent guests like Lord Islington, the Governor of New Zealand [5]. It is possible that Mr Dale collected the egg from near Lake Waikaremoana during his time running the Lake House or was given it by a guest or associate. 

Image of the Lake House at Lake Waikaremoana in the Urewera National Park. Photo taken in March 1922. The original caption read: "The Lake House. A horse stands in the left foreground." Image from MTG Hawke's Bay: https://collection.mtghawkesbay.com/objects/84051/the-lake-house-lake-waikaremoana. 
Although some of the details around how Mr Dale came to have a kiwi egg, what prompted him to sell it to the Museum, and the reason it was lent to the Department of Anatomy remain a mystery, what is certain is that this taoka, far from where it was laid over 100 years ago, has remained well cared for by the University. It is heartening when undocumented historic loans are returned to Tūhura, instead of abandoned to time, and we are thankful for the chance to resolve this one.  

A kiwi skeleton and kiwi egg. Tūhura Otago Museum. Photo: On Lee Lau © Otago Museum collection. 
Top image: North Island kiwi (Apteryx mantelli) egg AV12314. Photo: On Lee Lau © Tūhura Otago Museum Collection. 
[1]  WD Trotter Anatomy Museum, Department of Anatomy, University of Otago: https://www.otago.ac.nz/anatomy/facilities/museum/ 
[2] Neuman F (1993). Pots and Pieces: The Anatomy Museum of the Otago Medical School and How it Came to Be. NZ Museums Journal. 17-22pp. 
[3] Baskerville, RF (1988). Pelvic dimensions : an account of studies of the pelvis 1885-1988. Doctor of Philosophy Thesis. University of Otago. Retrieved from http://hdl.handle.net/10523/3374 
[4] Department of Anatomy, Otago University: https://www.otago.ac.nz/anatomy/index.html 
[5]Gisborne Times (1912). His Excellency Arrives. Gisborne Times. 3(3446) p7. https://paperspast.natlib.govt.nz/newspapers/GIST19120210.2.44 
[6] Department of Lands and Survey (1983). Land of the Mist: The Story of Urewera National Park. Department of Lands and Survey. 41pp.