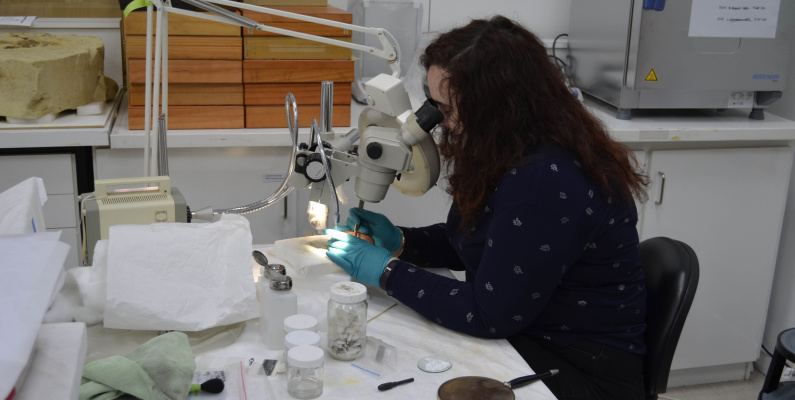 Over the past few months, I have been lucky enough to spend one day a week with the conservation team at the Otago Museum as part of an internship program with the University of Otago. Throughout my time at the museum, I have been able to experience many different things and learn a lot about conservation and how the museum runs. Perhaps the most notable thing I learned is that conservators do a lot more than just conserving objects. Every day in conservation is different, one day you are taking photos of ancient metalwork, the next preparing for a new exhibition, and then the day after you pest check the entire museum. They do so much more than I ever knew.



Sam and OM Conservator Shannah assessing the condition of a copper alloy Mirror as part of the Archaeological Metals Conservation Project


One of the first and most important things I learned is that before you do anything to an object, you must consider a lot more than what you initially think. Moving an object? Think about how you will hold it, if the object has any weak points you need to avoid, where you are going with the object, how you place it down, if you are capable of lifting it on your own, if the object will be under any strain during its move or when it is in its new location. Cleaning an object? Think about the fabric of the object, what you are cleaning off of the object, the stability of the object, why you are cleaning it, who you are cleaning it for, making sure to begin with the softest option and work your way up to the most abrasive. There are so many little considerations that I had not thought of, but that are crucial to ensuring that the objects are well treated. A lot of the objects in the museum's collection are precious commodities, that must be taken care of well or we will lose them. This is why conservation is so important.



Sam creating custom made packaging for two mirrors as part of the Archaeological Metals Conservation Project. Once conserved the archaeological metal items are stored in a tightly controlled dry environment to prevent future corrosion


But the work of a conservator is not always about the objects. One of the most important jobs they have is to pest check the museum. Keeping all the creepy crawlies out of the museum not only makes it a nicer experience for visitors and staff, but also protects the objects. A lot of little insects enjoying eating natural materials, which puts a lot of the museum's collection in danger. So regular checks throughout the museum mean that they can keep an eye on any bugs that might have made their way in, and make sure the collection is safe. So, if you ever happen to spot one of the sticky traps around the museum's galleries, make sure you leave it be, because it could be letting the conservators know that some extra attention needs to be paid in that area.



OM Conservator Shannah and Sam sorting through archaeological ceramic sherds and reconstructing ceramic vessels from an excavation undertaken in PNG by Dr Anne Ford from the University of Otago Archaeology Department.


I have also been fortunate to assist in a project currently underway in the conservation department, the Archaeological Metals project. The aim of this project is to treat over 600 pieces of archaeological metal in the museum's collection and create new storage that will keep the items in a better and safer condition. Though my contribution was only small, I was able to assist with photography, reporting, and rehousing a handful of the objects being worked on in this project. I feel very honoured that I was able to be a part of this project, as I know it is a big undertaking, and the items involved are all very old.


Overall, my experience at the museum was wonderful. I am so grateful I was able to work alongside the museums two fantastic conservators and learn so much about what they do and the museum in general. It is something I will always remember.