Researcher Insights: Q & A with Dr W Ross Ramsay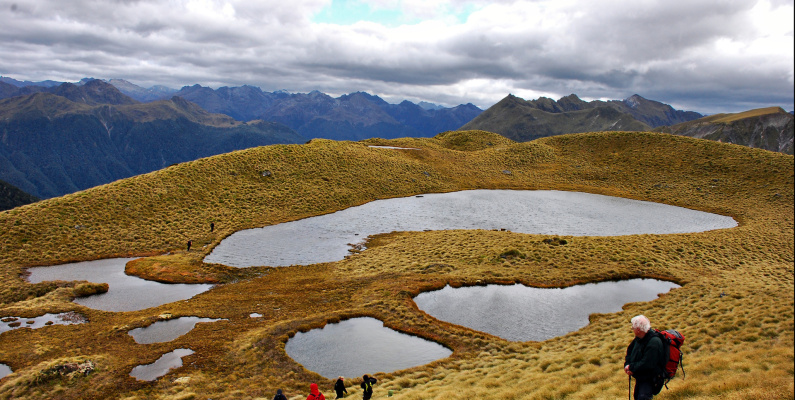 Image: Ross with his students on a field survey in Fiordland
The Otago Museum is a busy place, with over 350 000 people through our doors in the last year. A number of these visitors are researchers who have requested access to our world-class collection of 1.5 million+ objects to support their studies.
These researchers are doing really interesting things, and are often accessing items in our collections that aren't on public display, so we want to share some of their visits to provide another insight into what a behind-the-scenes day at the Museum looks like.
This week we meet Dr Ross Ramsay from the Southern Institute of Technology, Invercargill.
Tell us about your visit
I came to Otago Museum to look at two shaped scoria blocks or bricks, which have been measured, photographed, and now chemically analysed. One was recovered from a Māori occupation site in the Catlins, South Otago, in 1937 by David Teviotdale and Les Lockerbie. Chemical analysis that I undertook at the University of Otago Scanning Electron Microscope Centre tells me that the scoria block was the product of intra-plate volcanism. The block has high levels of alkalis with 20 percent by weight aluminium oxide.
Moreover, its inferred young age, based on the presence of very fresh volcanic glass, suggests that the Strombolian volcanic event which produced it was very recent, probably no older than about 5,000 years ago. The young New Zealand volcanic fields that match this scoria block in terms of age, major elements, minor elements, and rare earth elements, are the Auckland/North Auckland basalt fields. However, isotopic work being undertaken denies a linkage between these fields and this scoria block. 
The second scoria block came from the island of Mehetia, Tahiti, in the early 1930s. That block is now undergoing detailed microsampling and geochemical analysis.
What do you hope to achieve from your research?
I hope to show that the scoria block recovered from a Māori occupation site is exotic to New Zealand and, based on its unusual chemistry, source it to a particular island in the Eastern Pacific. If successful, this will be the first known Māori artefact from a secure excavation which can be sourced to its island of origin in Eastern Polynesia. Two other blocks are also known to have been found in New Zealand, and now have been chemically analysed. Of these, one was found in a Māori occupation excavation at Tautuku and the other came from Rakiura (Stewart Island).
What's most fascinating about this?
The Catlins scoria block may be exotic to New Zealand and may have been transported from Eastern Polynesia by one group of early Māori voyagers. This potentially will represent the first artefact that can be sourced to its island of origin.
Why do you love science?
I love science because it is able to explain much about the environment we live in.
Image: Three shaped scoria blocks found in South Otago, Rakiura (Stewart Island) and Southland.
From left to right, Tautuku block,Rakiura block, and Kings Rock block.