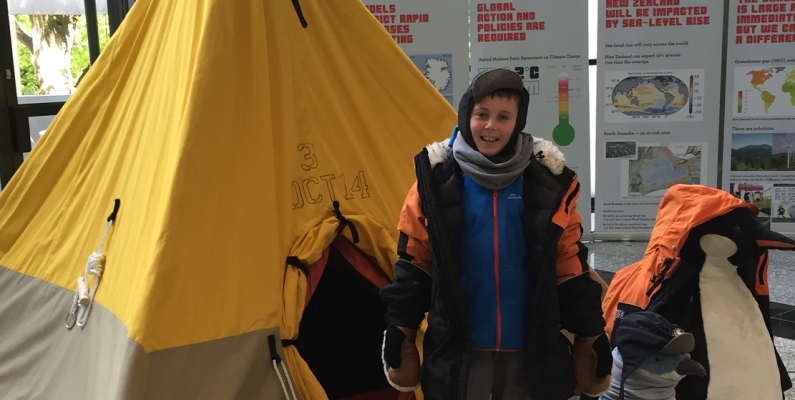 Otago Museum is taking its commitment to science outreach to the extreme again this year, travelling 3500 kilometres to Niue and the Cook Islands to deliver the Far from Frozen science showcase.
With the support of the United States Embassy and Air New Zealand, a team from Otago Museum will travel to Alofi, Niue this Friday for a week of school sessions, shows and workshops that will engage nearly 500 students as well as community members. The showcase includes interactive displays, demonstrations and virtual reality experiences all designed to communicate the science behind climate change.
Craig Grant, Director Science Engagement and Visitor Experience, says, "We believe it's essential to bring this showcase to those most affected by climate change. Sea level rise, ocean acidification and intensifying cyclones are already a reality for these Pacific Island nations, and, hopefully, Far from Frozen will help demystify the science that is causing these changes".
Due to their topography, coastal population distribution, exposure to tropical cyclones, and reliance on coral reef ecosystems for food and tourism, these islands and their inhabitants are at the coalface of having to adapt and respond to the multi-faceted impacts of climate change, yet have very little direct science communication to help them learn about these issues.
"If island communities can better understand the science driving what they are experiencing, they can then make more informed decisions around potential mitigation and adaption strategies, and the timeframes to implement such actions."
Far from Frozen originally opened at Otago Museum in January 2017 and has since toured to museums (including Canterbury Museum and Space Place Wellington), schools and events around New Zealand. More than 35 000 people have engaged with it and the feedback has been extremely positive with respect to how it raises awareness of climate change science. This year, the team will be presenting in Alofi, Niue from 10 to 17 August, and Avarua, Rarotonga from 24 to 28 September.
The showcase was developed in association with Antarctica New Zealand, the University of Otago and the New Zealand Antarctic Research Institute with support from the Ministry for Business Innovation and Employment's Unlocking Curious Minds fund.
---
Image: Far From Frozen. By Otago Museum.