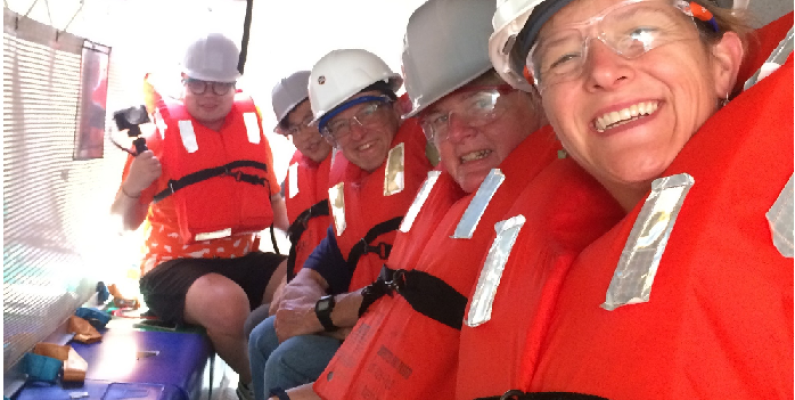 Kia ora! I'm Claire, the Science Outreach Projects Coordinator at Otago Museum. For the next month I will be working as the onboard outreach officer on the ship the JOIDES Resolution, for Expedition 378: South Pacific Paleogene Climate. I'll be blogging about my adventures here, but you can also follow the ships social media accounts on Facebook, Instagram, and Twitter.
Blog Post Four – How do I get to my lifeboat?
We have had calm seas and fair weather. You could allllmost forget that you are even on a ship in the Pacific Ocean. I've either been in a conference room listening to presentations or at a desk in an office working away. Then I go to eat, go to the gym, and go to my little cabin and sleep in my bunkbed. I could be anywhere.
Except for the little things that you notice. When you got to scooch over to grab something, you notice that there are no wheels on any of the chairs, the books are all bungeed in to the shelves, and there is the sound of water lapping against the hull in our cabin. Oh and emergency lifeboat drills, they are a definite reminder….
Image: Lifeboat tour after abandon ship drill. These boats can hold up to 70 people! By Claire Concannon © Otago Museum. 
In our rooms we have a life jacket, a cold water immersion suit, a hard hat, safety glasses, and an emergency fire bag with a smoke mask in it. On the first day at sea, everybody was assigned a lifeboat and we ran an Abandon Ship drill. We were told that the assignment would be posted, and we had to figure out where our lifeboat was located and how to get there. Honestly, I cannot stress how similar all the stairs and passageways and corridors look on this ship! But I made it (last of my lifeboat!) and afterwards we had a 'tour' of the lifeboat. Interesting, but not somewhere I would like to be again.  
The next day we learned how to put on our immersion suits. Cue much hilarity. They are tricky to zip up when your hand is in the giant glove, and everybody looked like giant lobsters. But the idea is that they would keep us alive if for some reason we had to abandon ship in cold water.

Image: Immersion suits, if only Rose & Jack had had one. By Claire Concannon © Otago Museum. 
But not only are we on a ship, we are on a scientific drilling ship! That means massive drilling derrick, heavy drill equipment, an operating crane, and working laboratories – complete with radioactive sources (like the X-ray imager), dangerous chemicals, explosive chemicals, hazardous chemicals, liquid nitrogen, and compressed gas. So everybody that works in the labs gets A LOT of training. Areas where we have to wear a hard hat, glasses, and ear protection are clearly marked with yellow and black striped lines, and some areas are a strict no-go without supervision. 
Of course, by far the most common reason to go to the on-board doctor is none of these dangerous things, but because of seasickness. As I said, it's been calm so far, and I've had no issues, but things may well change as we keep sailing south.

Image: The doctor onboard has brought 4000 seasickness pills!!!! Fingers crossed I won't need any…. Credit: Lindy Newman
We are now in the Aotearoa New Zealand's EEZ or Exclusive Economic Zone off the east coast of the country, heading south. The EEZ is the area within 200 nautical miles from the New Zealand coast  (A nautical mile is 1852 m, which seems arbitrary, but it was originally based on the circumference of the earth, and is equal to one minute of latitude). New Zealand has special rights regarding the exploration and use of marine resources in its EEZ. Since we are drilling in this zone we would have asked special permission to do this, and will have notified New Zealand authorities before we entered the region. We are actually going to travel most of the length of this zone on our way down to the drill site on the Campbell Plateau at a latitude of 52o South. New Zealand's Subantarctic region is known for its beautiful and unique flora and fauna, but not for its calm and friendly seas. Fingers crossed.

Image: Aotearoa New Zealand's EEZ shown with a white outline, picture credit: GNS New Zealand
Top Image: Lifeboat tour after abandon ship drill. These boats can hold up to 70 people! By Claire Concannon © Otago Museum.