Rēkohu travel journal – Part Four – Museums and Collections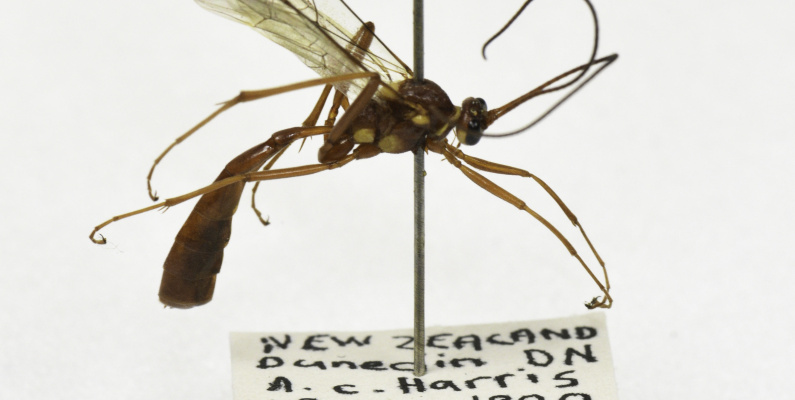 Kīoranga! With my summer on Rēkohu coming to a close, I'm getting ready to head back to Dunedin and the Otago Museum to catch up on the new happenings and exhibitions (like Sea Monsters!). I'm also finishing up a year-long project digitising collection information from over 15,000 insects that are a part of the museum's terrestrial invertebrate collection. 
My on-site work as an assistant collection manager at Otago Museum typically involves lots of sorting, identifying, recording, photographing, and supporting access for researchers/donors/visitors in back-of-house natural science collection areas. My remote work in the past months has focused on generating information-rich digital records using the collections data transcribed from specimen labels associated with insects that I had catalogued earlier in the year.The reality of this work means that I am spending a lot of time working with Excel spreadsheets, preparing them for bulk upload into the Museum's collection database. Each specimen record takes a few minutes to create and review – to record dates in the correct format, record the collector's name, confirm location names, add mapping coordinates and geographical notes when provided, record elevation and ecological notes, write a physical description of the specimen, and add taxonomic identifications from experts. You might be thinking, 'surely there is a way for a computer program to sort that all out for you', and it's possible, but we would still want to spend time to check that information is not lost in translation, and labels with abbreviations or alternate spellings can still generate valid data. So as much as I would be keen to automate the work, it still requires a human touch, and it does give us an opportunity to notice patterns in the data that might someday lead to a key discovery in science or advance the conservation of species.  


 
Image: Cataloguing a box of Stigmella midget moths at Otago Museum. Photo by Kane Fleury. 

Over the last few years, I have been able to observe New Zealand's insect diversity through cataloguing work and get a close look at collections of grasshoppers (Acrididae), bees (Apidae), wasps (Vespidae), parasitic wasps (Ichneumonidae), weevils (Cuculionidae), stag beetles (Lucanidae), caddisflies (Trichoptera), and many different families of moths (Lepidoptera). These collections were compiled over decades of field and lab work by curator collectors including Brian Patrick and Anthony Harris.The species identifications and publications associated with their collections contribute to the record of New Zealand's biodiversity, and the specimens provide valuable data for researchers and conservation managers to see where species are found and how that has changed over time. 


 
Image: Stigmella midget moth in Otago Museum's collection. Photo by Kane Fleury. 

Otago Museum's terrestrial invertebrate collections data contain a trove of location information with a heavy concentration around Dunedin and throughout Otago, and also some ecological information about which plants the insects were found on and likely depend on to complete their life cycle. My current favourite example is from Stigmella midget moths, some of which have been collected from Dunedin locations like Mt Cargill, Port Chalmers, and Woodhaugh. These are the smallest moths in New Zealand, measuring only about 4 millimetres across. The larvae of these moths eat by 'mining' through leaf tissue, and our collection data indicate that different species of midget moths seem to specialise on different species of host plants including tree daisies, beech trees, and kōwhai. Every so often, cocoons, larvae, or plant fragments are collected along with the moths.There are also specimens which include a parasitic wasp that emerged from a moth, both of which were caught and pinned together. These are direct observations of ecological relationships which fascinate me and many other naturalists. 


 
Image: Attendees of the Entomological Society of New Zealand conference held at Otago Museum in April 2021. Photo by Kane Fleury, CC-BY. 

In 2021, Otago Museum was the venue for the annual Entomological Society of New Zealand conference where biologists studying insects and spiders (i.e., entomologists) from around the country gathered in Dunedin to share their research and connect with colleagues. A few researchers have since contacted our natural science curators and offered to donate specimens to the Otago Museum; as a public collection these donations ensure that specimens are available to other researchers now and into the future. My first project while working remotely from Rēkohu was to process the collection data from these specimens and prepare a data spreadsheet for curators to do further species identification work.  
Accounting for the cataloguing work that I started from March 2021, I have helped to create digital records for over 15,000 specimens within this last year. This achievement marks a personal milestone in my work and contributes to Otago Museum's invertebrate collection cataloguing project that has been ongoing since about2004, adding to thousands of work hours completed by collections staff. With new donations and many more thousands of insects and geological samples still to be catalogued within Otago Museum's natural science collections, we still have much more work ahead of us. 
You would be fair to ask why this work is important, and I would respond with this insightful comment by renowned entomologist Edward O. Wilson, who recently passed away and left an enduring legacy in the scientific field. "Biodiversity is the totality of all inherited variation in the life forms of Earth, of which we are one species. We study and save it to our great benefit. We ignore and degrade it to our great peril."  
Our work creating digital collection records for what objects or species we have and where and when they were collected adds to our understanding of the strengths and weaknesses of our collections, and increases our readiness to prepare displays, answer questions and field enquiries for specific species or groups. Museum collections staff field hundreds of requests and enquiries each year by artists, writers, researchers, students, and community groups about the collections we hold. Some of these are simple, some more complex. Every day is a lesson in the depth and breadth of people's curiosity.The eventual goal with our cataloguing and digitisation work is to improve online 'findability' of the collections Otago Museum holds.  
By working in a museum and also being involved in field work to collect specimens for research, I've gained an understanding of how fragile information about a collection can be. There are usually several tasks that need to be done in quick succession during fieldwork, so observations assumed to be obvious or even memorable ones can be lost over time if they are not intentionally noted. Good data collection at the point the specimens are collected, with descriptive labels and field notes, is critical to increasing a specimen's usefulness for future researchers once they are given to museums.Specimens might be a nice representative of a species if it comes without data, but with more data can provide more context for huge array of questions to be answered. 
I am very excited to be reacquainted with my museum colleagues and the collections after these last few months away on Rēkohu, to start new projects, and to continue this important work. 



Image: Chatham Islands Museum. Photo by On Lee Lau, CC-BY. 

The Chatham Islands Museum has recently reopened after moving to a larger exhibition space in the newly built council-museum building complex. Meeting modern museum standards for temperature and humidity control, and with plenty of work and storage areas this museum will be a great asset to the Chatham Islands community. The museum exhibits cover both natural and social history. It tells the stories of the island community by displaying items that represent both significant historical events and daily lives of the people. Support for local and regional museums is essential to help keep miheke/taonga and their stories close to their community. 
If you are keen to visit the Chatham Islands, you may be waiting for an opening in accommodation or tour bookings for a while, but it will be worth the wait. With the airport runway extension already under construction, there will be many more visitors arriving to see the Chatham Islands in the coming years. I already know that this will not be my last adventure on Rēkohu.  
Top Image: Pinned Ichneumonid wasp, Ophion peregrinus. IV121000. Photo: On Lee Lau © Otago Museum. 
Donner H and Wilkinson C (1989). "Nepticulidae (Insecta: Lepidoptera)". Fauna of New Zealand. Department of Scientific and Industrial Research. 16. doi:10.7931/J2/FNZ.16 www.biotaxa.org/fnz/article/view/fnz.16  
McLaren GF and Walker AK. (1989) New Zealand flower thrips, Thripsobscuratus (Crawford), life cycle." Department of Scientific and Industrial Research information series, no. 105-53. 
Patrick B and Dugdale J. (2000). Conservation status of the New Zealand Lepidoptera. 1-33.  
Patrick B. (2004). Conservation of New Zealand's tussock grassland moth fauna. Journal of Insect Conservation. 8. 199-208. 10.1023/B:JICO.0000045818.29222.65.