Significant James Short telescope now on display at Otago Museum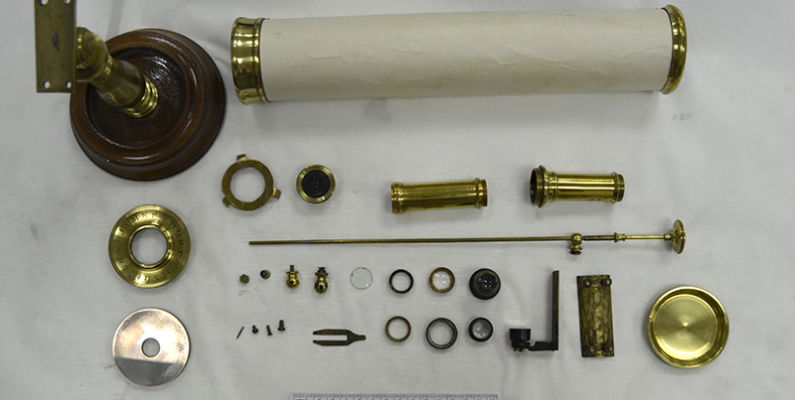 Late last year, the Otago Museum discovered it is home to what appears to be the oldest telescope in New Zealand.
The Gregorian telescope was made in Scotland in 1736 by James Short (1710 – 1768), an important 18th century telescope maker. Similar instruments made by Short were used by Captain James Cook on HMS Endeavour to observe the Transit of Venus in 1769.
The inscription reads James Short Edinburgh 1736 41/93. This number means that it was the 93rd telescope made by Short, and the 41st of its particular size, with a 60 mm main metal mirror.
The telescope was donated to the Museum by John Wyndham Begg, son of astronomer John Campbell Begg, who was a founder and director of Dunedin's Beverly-Begg Observatory.
On discovering the significance of the telescope, the Museum's Conservation team has been hard at work putting it back together and returning it to its original beauty for Museum visitors to enjoy.
"This is a truly elegant mechanism," says Otago Museum's Conservation Manager Nyssa Mildwaters.
"It remained in really good condition and only required minor conservation work, including removing paper that had been glued to the outside, giving it a good clean, and applying a protective coating."
"To ensure its future preservation while on display to the public, lighting in the area will be controlled. Visitors will also see that we have left the end cap on the telescope – as it is in such good condition, we don't want dust to settle on the internal mirrors and cause any future issues. These are all things that we take into consideration when displaying items with historical significance such as this one."
Visitors to the Museum can see the telescope on display in the Beautiful Science Gallery on Level 1.
Image credit: 1736 telescope by James Short. Gifted by J W Begg; Otago Museum Collection