Twelve Stamps of Christmas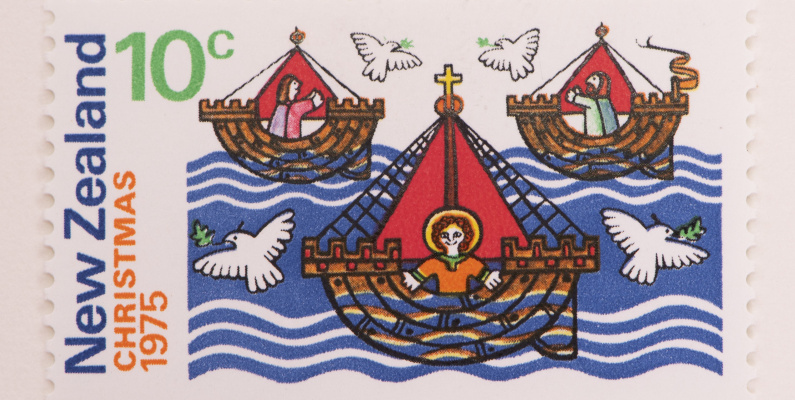 As we embark on the enjoyable task of choosing Christmas cards to send to friends and family this year, it seems an appropriate time to think about the stamps that have been specifically designed for the season, and which might be used on their envelopes.  
Having recently received NZ Post's generous donation of a mint set of their 2022 Christmas designs to add to the Museum's philatelic collection, we decided to indulge ourselves by sharing twelve of our favourite New Zealand/Aotearoa Christmas stamps, selected from the just-over-sixty years they have been produced here.   
New Zealand issued its first Christmas stamp in 1960, in response to a request from the National Council of Churches and the Bishop of Christchurch. We were one of the first countries in the world to do so. There was a single stamp issued in 1960, and that remained the case through to 1969.  

Figure 1:1966, threepenny stamp showing Carlo Maratta's painting, Virgin with Child. 
The 1966 stamp showedMaratta'sVirgin with Child from a painting hanging in the KunsthistorischesMuseum, Vienna. Carlo Maratta (1625-1713) was a late baroque Italian painter. He was one of the leading painters of the Roman School of the later 17th century, and his depiction of Mary holding the baby Jesus shows a much younger baby than in many other Nativity paintings. The stamp was printed by Harrison and Sons. 
In 1970, for the first time, three different Christmas stamps were produced, in response to public requests for Christmas stamps to match the main overseas postage rates, as well as the domestic.  

Figure 2: 1970, 3-cent stamp showing a window in First Church, Invercargill.  
The three-cent stamp from that year shows the window in the First Presbyterian Church in Invercargill. The church was designed by John T. Mair and was influenced by Romanesque and Byzantine styles of architecture with "nearly as perfect as possible acoustics". It was opened in 1915, and its campanile (bell tower) is 32 metres high. The stamp was designed by Don A. Hatcher and printed by Harrison and Sons.  

Figure 3: 1970, 10-cent stamp showing the tower of Our Lady of Victories, Christchurch. 
In the same year, the most expensive stamp, the 10-cent, showed the tower of Our Lady of Victories, the Roman Catholic Church in Sockburn, Christchurch, constructed in 1968. The stamp was designed by Mark Cleverley, a Fine Arts graphic design graduate, best known now, perhaps, for the collectable ceramic designs from his years as a creative director at Crown Lynn. In 2014, Cleverley received the Design Institute of New Zealand's Best Design Awards Black Pin for Outstanding Achievement. 

Figure 4: 1972, 10-cent stamp showing a stylised pohutukawa (Metrosiderosexcelsa) flower. 
In 1972, the 10-cent stamp showed a stylised flower of the pohutukawa tree(Metrosiderosexcelsa) on a golden background. In 1833 the missionary, Henry Williams, had described holding a service under a "wide spreading Pohutukawa", and soon after became widely known as the Christmas tree."Christmas to the Aucklander would not be the same without the crimson glow of the pohutukawas miraged in the lapping water where the white-keeled yachts ride at anchor and sun-bronzed bathers splash in the sea reddened with dropped stamens" wrote a New Zealand Herald reporter in 1934.  
The stamp was designed by Don A. Hatcher, and printed by Courvoisier S.A., in Switzerland.  

Figure 5: 1974, 10-cent stamp showing a Christmas lily (Lilium candidum). 
Two years later, in 1974, still producing three stamps in different denominations, one of which was described in New Zealand Post's Stamp Bulletin as "a symbolic design", the 10-cent stamp was again a flower –this time a Christmas lily (Lilium candidum), though it regrettably lacked the fantastic scent which is a large part of its appeal.  
It was designed by the wonderfully talented Dame Eileen Mayo, who was working on the Five Fathoms Deep diorama in the Marine Gallery at TūhuraOtago Museum at the time. Sadly, that is no longer in existence. A graduate of the Slade School of Fine Art in London, Mayo moved to New Zealand in 1962. Her own work included painting, print-making, linocuts, tapestry design, and book illustration. She was, as the Times Literary Supplement put it,"an artist endlessly inspired by the natural world and liberated by her mastery of printmaking". 

Figure 6: 1975, 10-cent stamp with design based on the Christmas carol, "I Saw Three Ships Go Sailing By". 
In 1975, the 10-cent stamp had a design based on the popular Christmas carol, "I Saw Three Ships Go Sailing By", with four white doves symbolising peace.It was designed by Enid Hunter who had studied graphic design at the Hull Regional College of Arts and Crafts in England before she moved to New Zealand in 1965. Her first New Zealand stamp designs were from 1970, in response to a competition. The 1975 stamps were printed by Harrison and Sons, in England. 

Figure 7: 1977, 16-cent stamp showing a stained-glass window in St. Michael and All Angels Church, Dunedin. 
This 16-cent stamp from 1977 shows a stained-glass window in St. Michael and All Angels Anglican Church in Andersons Bay, Dunedin. The church is a 'bungalow' style popular at the time and was opened in 1924. Saint Michael was one of seven archangels recognised in Judaism, Christianity, and Islam, and was regarded as their leader. He was the patron saint of the sick, of grocers, sailors, and soldiers of Germany and France. The stamp was designed by Margaret Chapman and printed by Courvoisier S.A., Switzerland.  

Figure 8: 1979, 25-cent stamp showing Christ Church, Russell. 
This Anglican church, the oldest surviving in New Zealand, was built in 1835 when Russell was known as Kororāreka. It survived the sacking of the settlement in 1845 but was badly damaged, and later restored by the (then) New Zealand Historic Places Trust. It was built by Gilbert Mair and has a beautiful cemetery containing many famous memorials including that of TāmatiWāka Nene, a Māori rangatira of the Ngāpuhi iwi, whose influence was crucial to the acceptance of the Treaty of Waitangi. The stamp was designed by Don Hatcher and printed by Courvoisier S.A., Switzerland.  

Figure 9: 1981, 30-cent stamp showing St John's Church in Wakefield, near Nelson. 
In 1981, the Christmas 30-cent stamp showed the Anglican St John's Church in Wakefield, near Nelson. St John's is the oldest surviving church in the South Island/Te Waipounamu and the oldest parish church in continuous use in this country. It is also recognised as the first New Zealand building known to have been designed by a woman: Marianne Reay, whose husband, the Reverend Charles Reay, conducted the first service in the church, in October 1846. Two years after the stamp was issued, St John's was registered as a Historic Place Category 1.  
The stamp's designer was Margaret Chapman, who also designed the 1982 Christmas set, which included a 45-cent 'Surf Life-Saving' stamp, in recognition of the important role SLSNZ plays in making the beach-visiting Christmas period in New Zealand safer.  

Figure 10: 1982, 45-cent stamp celebrating New Zealand surf lifesaving. 
In New Zealand, surf lifesaving began at Lyall Bay and New Brighton in 1910. Today, the national association represents 74 Surf Life Saving Clubs across Aotearoa. More than 4500 volunteer surf lifeguards patrol at over 80 locations in the summer. In the 2021/2022 year, they saved 726 lives, took 107488 preventative actions, and made 1528 assists to safety.   

Figure 11:  1988, 35-cent stamp showing part of the first verse of the Christmas carol, O come, all ye faithful. 
This stamp shows the beginning of a Christmas carol written circa. 1742 by John Francis Wade, an Englishman at the Roman Catholic Centre in Douay, France, and was translated into English by an Anglican minister. Some words from the first verse of the carol are shown in a form similar to Medieval illuminated script: "O come, all ye faithful, joyful & triumphant O come ye, O come ye to Bethlehem: Come and behold him, born the king of Angels". This carol is sung by Christian congregations during worship on Christmas day. It was designed by Fay McAlpine and printed by Leigh-Mardon Pty. Limited. 

Figure 12: 1992, $1.50 stamp showing a pohutukawa tree. 
The stamp shows a pohutukawa tree, New Zealand's Christmas tree. The pohutukawa flourishes in coastal areas, especially in the North Island, and has a wide-spreading form and attractive profusion of red flowers. Its genus includes other attractive trees including southern rātā, which are now flowering closer to Christmas than they used to, due to global warming. The stamp was designed by Ken Hall and printed by Leigh-Mardon Pty. Limited. 
All photographs were taken by Jen Copedo.  
All stamps: Tūhura Otago Museum Collection.