An Adam Smith skirt – bespoke fashion for a well-dressed 1950s working woman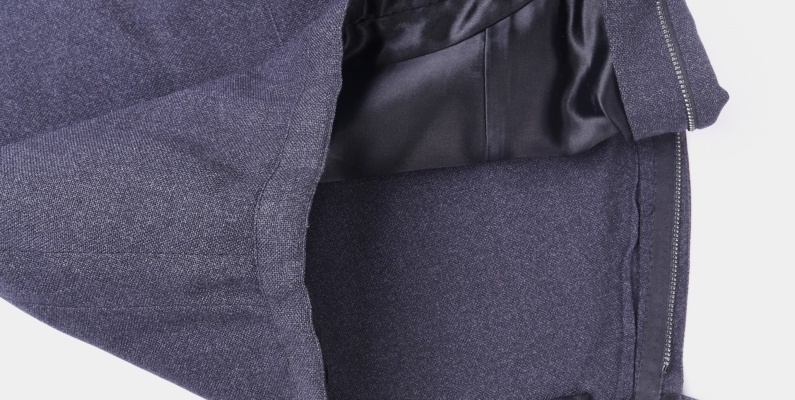 The Museum has recently been given a skirt made by the well-known 20th century Dunedin tailor, Adam Smith. For about four decades Smith operated his business from premises in Moray Place; mostly from an address now occupied by another much-loved Dunedin institution: the Asian restaurant.  
The grey woollen skirt was made to order for Judith Smith (no relation), who worked at the Dunedin Public Library. Tall, and extremely slim, Judith had trouble finding clothes that fitted her well. New to the city in 1950, she asked the advice of a well-dressed acquaintance, Mrs Rose Wardell, who recommended Adam Smith. Smith was recognised for the cut and finish of his garments, as well as the quality of the fabrics he used. On a librarian's salary Judith was not able to afford a matching jacket; even the skirt was priced at 10 guineas. Nevertheless, she was thrilled with the result and wore it with a bright, narrow belt, of which she had a number in different colours, and teamed it with a blouse or sweater, depending on the season. It worked so well she ordered a second skirt some years later, and this is the one we have just been given.
Images: Gift of Mrs Judith Robinson; Otago Museum Collection 
Adam Smith had fought in WWI – he enlisted early in 1917 and served in Western Europe with the Otago Infantry Regiment, D Company. It is perhaps a little surprising then that he is thought to have been the subject of the first prosecution under New Zealand's World War II Austerity clothing regulations.
The regulations were seen in some circles as of psychological rather than industrial value, particularly as they affected men's clothing.[i] Rules aimed at using less fabric – no trouser cuffs, no pocket flaps, single rather than double breasted coats, and so on. However, in March 1943 the New Zealand Manufacturers' Federation was reported as saying that there was "little question that if we are sincerely to support England in her tremendous war effort, then we here should not expect to be able to retain the old type of suit and expect England to adopt the austerity features and short rations".[ii]
Smith's defence countered with an argument that when bespoke tailors manufactured clothing from standard suit lengths, the specifications did not result in a saving of materials. Nevertheless he was convicted of manufacturing a coat and vest in contravention of the New Zealand Emergency Standard Specifications and fined £5 with costs. [iii]
We have other examples of Adam Smith's tailoring in the collection. A grey woollen, three-piece suit made for Charles Brasch is a highlight. We also have a pair of white spats made for a local wedding, and a tail coat and trousers from the mid-1950s.
Images: Gift of Mrs Judith Robinson; Otago Museum Collection 
---
[i] Hammonds, L., D Lloyd-Jenkins and C. Regnault. 2010. Thedresscircle: New Zealand fashion design since 1940. Auckland, N.Z.: Godwit
[ii] AUSTERITY SUITS, Evening Post, 27 March 1943
[iii] "AUSTERITY SUIT" CASE, Press, 27 November 1943