Est. 1868: Waste not, want not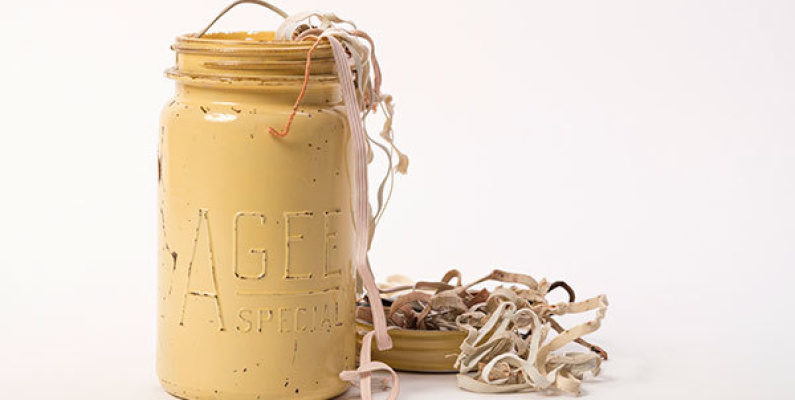 Why on earth would the Otago Museum keep an old, painted preserving jar full of pieces of elastic? Good question. The short answer is that like all great museum objects it tells a story that may otherwise be forgotten. 
These days synthetic or rubber elastic is used in lots of outer and underclothing such as bras, underpants, pyjamas, swimsuits, shapewear, belts, and sports and athletic clothes. We use elastic because of its great stretch and recovery properties. It can lengthen or expand a long way and return to its original size over and over again, although eventually it wears out.
Names such as spandex (the American name) or elastane (as it's called in the rest of world) refer to the most commonly used synthetic elastic compound, first developed in 1958, while Lycra is DuPont's registered trade name for it.
Before synthetic versions, rubber was used to make all forms of elastic used in clothes and other textile products. Most of the world's rubber came from plantations in Malaya and the Dutch East Indies, in south-east Asia. When Japan controlled these areas during World War II the flow of rubber to many parts of the world ceased. Mostly this affected the production of tyres for vehicles but it also meant elastic for holding up knickers or stockings was in very short supply.
People therefore saved every scrap of elastic they could and recycled it. It was unpicked from old garments or unthreaded from waist or leg bands, snipped off old hats, and even suspenders were cut off old corsets and girdles, so they could be reused. A Dunedin dressmaker, Phyllis Irwin (nee Ruston), interviewed as part of the Women in World War Two Oral History Project said, "a piece of elastic …was worth your diamond ring nearly".
The prize-winning hint in the Anti Waste Campaign in the New Zealand Women's Weekly on 28 May 1942 (p31), was a substitute for elastic. "Now that it is almost impossible to get bloomer elastic, mothers of girls will possibly find the following useful…Take an old bicycle tube and cut a piece without too many patches into long lengths about a quarter inch wide. Quite a number of yards can be cut from one tube, and it will outlast several elastics."
Domes, buttons, fabric tapes and even string also provided substitutes for elastic. The shortage continued until some time after the war, hence the drive on the part of textile companies to find a substitute.
est. 1868 is open daily at Otago Museum in the Special Exhibitions Gallery, 10am to 5pm, until 14 April 2019. Entry is free.
---
Top image: Painted Agee preserving jar of elastic remnants. Gift of Jane Barker Eames; Otago Museum Collection. G2008.434. By Kane Fleury © Otago Museum.