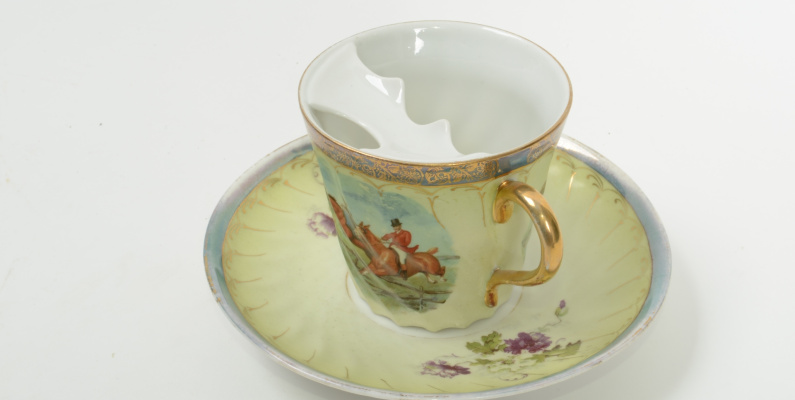 In celebration of the many men sporting some excellent moustaches around Otago at the moment, our Curator, Humanities, Moira White, is here to tell us a little bit about an essential piece of equipment for the moustached man in the Victorian era.
"The most flattering New Year gift to a very young man would be a moustache cup" quipped a Thames Star reporter in 1888. [1]
The quintessentially Victorian artefact seems to have rapidly become a global symbol of (tea drinking) masculinity.  Said to be the invention of British potter Harvey Adams, moustache cups have an internal ledge near the rim of the cup on one side, with an opening through which tea (or coffee) could be drunk.  The ledge protected the moustache from the ravages of hot liquid. This was particularly desirable for luxuriant models shaped or held in place with wax.
Moustache cups made by a variety of manufacturers were widely advertised for sale, offered as prizes in a range of competitions, and included among published lists of wedding gifts. 
The inventive soon got to work and patent applications were filed, such as Mr Hepinstall's detachable moustache guard in 1869 "capable of removal and attachment to any cup within certain ranges as to size"; and W.C. King's 1879 design for a special attachment for beer mugs, "and other drinking cups for foaming liquids".  Closer to home, Messrs Sutherland and Brett of Hawera patented "an improved moustache guard for spoons" [2] in 1904. It apparently fitted ordinary tablespoons, "leaving an aperture similar to that in a moustache cup" [3] and several local hotel-keepers were said to have received testimonials in its favour.

Image: Moustache cup and matching saucer commemorating Queen Victoria's Diamond Jubilee, 1897.  F59.28. Bequest of Mrs MacDonald; Otago Museum Collection © Otago Museum.
Not surprisingly, moustache cups fell out of favour when the fashion for lavish moustache-wearing waned. 'Gone for Good - The Moustache Cup' read a 1930 Evening Post headline. In 1940, there was a report of an American woman, Mrs Jolly, exhibiting a selection from her collection of thousands of moustache cups, now only curiosities, at the convention of the Associated Coffee Industries of America in New York. [4] 
However, as men looked after their moustaches, so now moustaches are helping to look after men. Movember is an annual "month-long celebration of the moustache", [5] during which men grow moustaches to raise funds for men's health programmes such as those addressing prostate and testicular cancers, and suicide prevention.
Top Image: Moustache cup and matching saucer with equestrian image.  F84.158. Gift of L. Smith; Otago Museum Collection © Otago Museum. 
Sources
[1] Thames Star, 31 December 1888, p. 2; accesssed through the Papers Past website
[2] Hawera & Normanby Star, 8 July 1904, p. 3
[3] Ibid.
[4] Bay of Plenty Times, 22 April 1940, p. 6
[5] Jenna Jacobson and Christopher Mascaro, 2016, 'Movember: Twitter Conversations of a Hairy Social Movement' https://journals.sagepub.com/doi/full/10.1177/2056305116637103