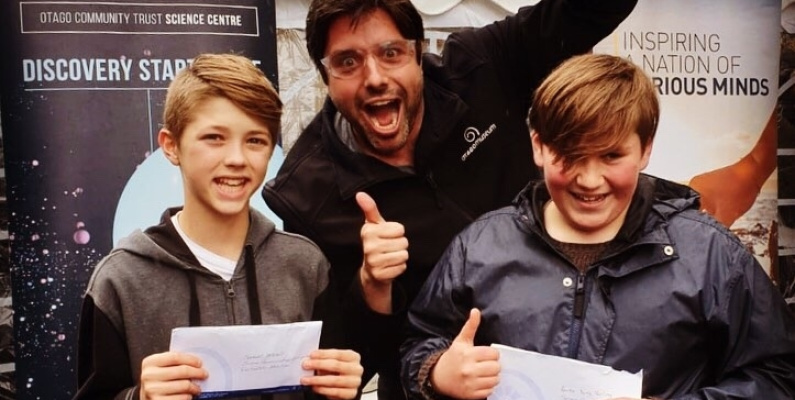 The Science Show Offs Competition finished up with a bang, and a pop, and a whoosh on 12 October at the Vogel Street Party. Science Presentation Coordinator Amadeo Enriquez Ballestero has been taking this Otago Museum science programme, generously funded by MBIE's Unlocking Curious Minds, to the pools and parks of Dunedin over the past two months, showing our region's youth how fascinating and fun science can be.
The competition was a chance for children and teenagers to have a turn, creating their own science demonstrations video and uploading them to our website.
We had fantastic entries from young scientists of all ages; things were set on fire, things were frozen, and a lot of slime was made. The overall winner was Samuel Mitchel who won a great prize pack with tickets to all the best events around town, including our own Tūhura, Planetarium, and James Cameron – Challenging the Deep. Amadeo, who was also one of the competitions judges, said, "All the videos were so great, it was hard to choose a winner, but Samuel did an astounding job of not only making an entertaining presentation, but explaining the science so well!"
Here is Samuel's video, where you can learn all about electrostatic attraction.
Other notable entries were Ridima Jain who won the Most Entertaining category with a video about earthquakes.
And, Alexander Steenkamp who won the People's Choice category.
We had some great feedback about the experiments, so we decided to keep the resources online for people to continue to use. If you want to be inspired by science, click here, and find some super easy and fun experiments – and the scientific principles behind them.