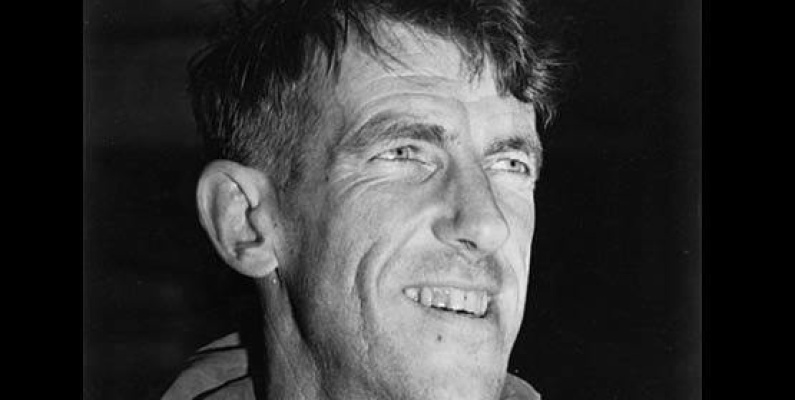 Shakespeare wrote that some men are born to greatness, while others have greatness thrust upon them. But then, there is that small group who, when pressed, admit only to being ordinary blokes who just did what needed to be done.  
In the past 100 years the best example of this incredible (and unwarranted) modesty that this country has to offer is unquestionably Sir Edmund Hillary. He was the first man to scale Everest; and, having reached the loftiest of heights, he was ironically the most grounded and down to earth chap you could ever hope to meet. I was privileged to do so on two separate occasions. 

He first came to the attention of, well, all of the civilised world, when both he and Sherpa Tenzing Norgay stood at the summit of Mount Everest on 29 May, 1953. Their momentous achievement coincided quite nicely with the coronation of Her Majesty, Queen Elizabeth II. 

To be part of the team attempting the first successful Himalayan expedition must have been exhilarating in itself, but to be the one who actually planted the flag meant achieving the unachievable by conquering the wild and formerly untameable mountain.
Once at the top, Hillary and Sherpa Tenzing were in such a position as to look down upon the ice-shod peaks, and also to see the curvature of this planet; a sight that only a select few have been able to survey. Well earned!!  

But none of this happened by accident!  
Many late-night discussions into what thwarted the success of past expeditions must have taken place, with all sorts of ideas and possible solutions being proffered and debated.
By keeping their focus squarely on realising their dream, they set about gathering the best team possible along with the appropriate equipment to see the job through.  

Planning is all very well, but when the team is only moving forward because they are willing their exhausted and heavy limbs on through freezing storm conditions, it speaks volumes to the 100% effort and complete focus on the goal that keeps driving them.
These explorers were living in the moment for the duration of the entire expedition, without the modern equipment that today's climbers take for granted, relying solely on what they had on hand. They did, however, have the advantage of Sherpa knowledge, which must have been invaluable. 

Speaking of technology, in 1953, the means of communications were somewhat prehistoric in comparison to what we now use every day without a thought. 
On 2 June, 1953, the day of the Queen's coronation and four days after Hillary and Sherpa Tenzing stood at the top of the world, word was received in England and announced internationally. This may seem like quite a lapse in time to us, but at that time it was incredibly fast. Consider if you will, language barriers, time zones, relayed messages over crackling equipment, and someone making a hurried, yet ever-careful, descent to base-camp to make that first connection.
Image: Hillary and Tenzing on return from the summit of Everest. Public Domain
Sir Ed, as he is affectionately known, did not stop at conquering Mount Everest.
He spent his life giving back where he was able, returning to Nepal many times to assist with building schools, hospitals, and setting up access to clean flowing drinking water. 
He established the Himalayan Trust, which ensures the continuity of these projects and contributes to the well-being of the Nepalese people.
A thoroughly humble bloke who never sought accolades, but earned many over the years, including having his face on our five dollar note.
Loved by so many, his legacy lives on.
Just looking at my five dollar note, I know he will be around for many years yet.
On Monday, 5 August, our much loved Sir Edward Hillary stairwell display will be replaced with a new exhibit. If you want to view some incredible artefacts commemorating Hillary's assent to the top of the world, come along and have a look, before they are taken down for conservation. 
Top Image: Sir Edmund Hillary circa 1953. Taken by an unidentified photographer. Public Domain