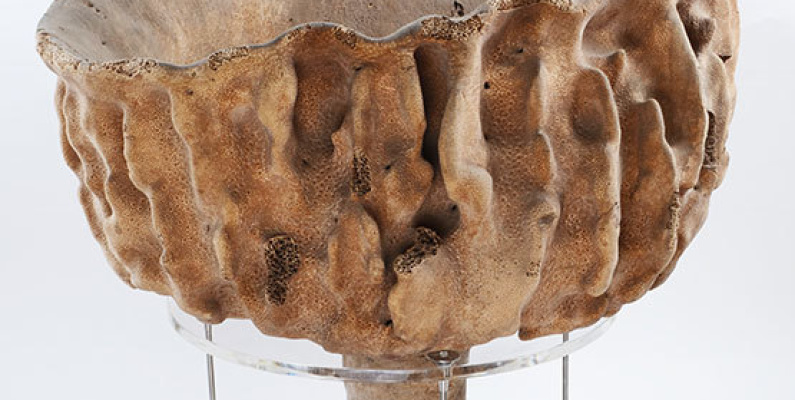 Sea sponges are common marine invertebrates that live in every ocean across the planet in both warm and cold waters. In New Zealand waters, there are over 700 species of kōpūpūtai (sponges) that show different colours and growth forms depending on their habitat [1]. Sponges are animals that filter seawater for food, so in a way they are cleaning the oceans!
Otago Museum's biggest sponge specimen is a rare Neptune's cup (Cliona patera) collected in 1892. Little is known about the species as it lives on the ocean floor and was believed to be extinct since 1908... that is until a few living specimens were discovered in 2011 along Singapore's coast [2].
Amongst the sponge specimens on display in Animal Attic, visitors can find a grumpy face gazing back at them if they are looking from a child's height. This West Indian sponge shows the key characteristic for all Porifera, the phylum for sponges, which means "pore-bearer" [3], and looks like holes or bits missing from the surface where seawater flows through the animal. Sponges do not actually have heads, stomachs, or hearts, but have a range of cells that perform the essential roles of feeding, reproduction and defence [1,3,4].
Image: Skeleton of West Indian sponge (Spongia sp.). Otago Museum Collection. IV40069. © Otago Museum.
Sponges were one of the first animals to thrive in the ocean [5] before sea jellies, trilobites, fish, turtles, sharks or whales. Their biology is quite unique as sponges provided the first evidence for an immune system in animals by producing chemicals that have anticancer, anti-inflammatory, antibacterial, antidepressant, antifouling and pesticide properties [1,3,4].
During Seaweek – Kaupapa Moana, taking place from 2 to 10 March 2019, there will be coastal clean-ups across New Zealand and activities to learn about the biodiversity of life in our oceans and how to protect it. The theme is Tiakina o Tātou Mōana – Care for our Seas. Perhaps you will find some pieces of sponge washed up on the beach and pay special attention to appreciate these animals.
Animal Attic is open from 10am–5pm daily. Admission is free.
---
[1] Carson S and Morris R (2018) Field Guide to the New Zealand Seashore. Collins, Auckland, pp20-29.
[2] Pratt R (2011). "Amazing Neptune's Cup Sponge Rediscovered in Singapore." Scientific American. https://blogs.scientificamerican.com/extinction-countdown/amazing-neptunes-cup-sponge-rediscovered-singapore/
[3] Warne K (2014). "For the love of sponges." New Zealand National Geographic. Issue 129. www.nzgeo.com/stories/for-the-love-of-sponges/
[4] Kelly M (2018). Splendid Sponges: a guide to the sponges of New Zealand. NIWA, 105pp www.niwa.co.nz/static/web/MarineIdentificationGuidesandFactSheets/Splendid_Sponges_Version_3-0_2018_NIWA.pdf 
[5] Gold et al (2016). "Sterol and genomic analyses validate the sponge biomarker hypothesis." Proceedings of the National Academy of Sciences, 113 (10) 2684-2689. www.pnas.org/content/113/10/2684  
Top image: Neptune's cup (Cliona patera). Otago Museum Collection. IV42602. © Otago Museum.