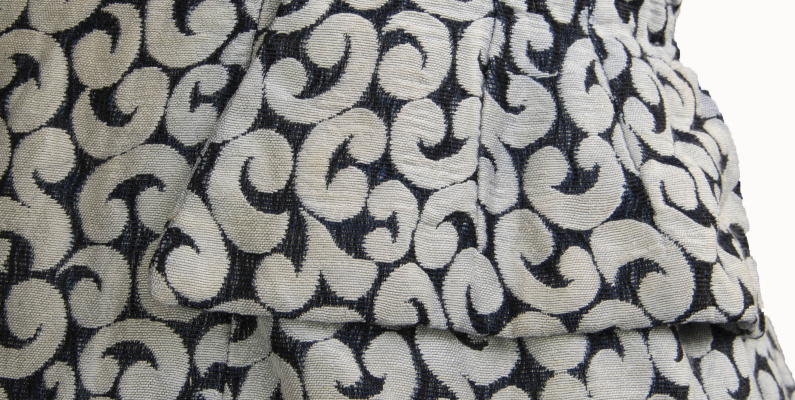 A new addition to the Museum's dress collection unexpectedly involves the story of the first male staff member in the then Home Science Department, University of Otago; a dashing 24-year-old Frenchman named Monsieur Rene Thevenot.  
Our recently acquired garment is a stylish New Look jacket, sewn by Patricia Coleman in 1954, near the end of a year's study in Europe.  
Jacket made by Patricia Coleman in Vichy, France, in 1954. 
G2020.15 Gift of University of Otago; Otago Museum Collection. Photograph by Jen Copedo 
It has a shawl neckline, nipped-in waist, pocket flaps on rounded hips, and fastens centre front with three large blue buttons, which tone perfectly with the blue and white patterned fabric.  
Detail of the jacket showing pocket flap shaping.  
G2020.15 Gift of University of Otago; Otago Museum Collection. Photograph by Jen Copedo 
The Journal of the Association of Home Science Alumnae for the previous year, reported that Patricia Coleman, then a lecturer in the Clothing department, had been awarded a cultural bursary for study in France. "She intends to study cutting and clothing construction, and hopes to gain experience in the workroom of one of the well-known Parisian designers and to visit some of the famous French textile factories".1    
When she made the jacket, Patricia Coleman had just spent nearly a year in Paris "attending a full-time course in Dress Design at a school organized by the Chambre Syndicale de la Couture Parisienne, which trained modelists for the haute couture houses". 2 Students from 14 countries participated in the course, the principal subject of which, 'coupe', was based entirely on drafting.  She noted in a letter to Dunedin acquaintances that "Many long hours go into the creation of models in calico, and it does not take long to realize how and why the French couture has gained its world-wide reputation. Absolutely nothing is too intricate or too much trouble". 3 
"During the next two months", she then wrote, "I will be in Vichy, where M. Rene Thevenot has kindly offered to let me gain some practical experience in French techniques and commercial method. This unfortunately will complete my all-too-short, but very-much-valued, year's leave in France to study Advanced Clothing". 4  
We know from documentation associated with the jacket that it is one she made and wore while working at Rene Thevenot's couture studio in Vichy. What led her to that particular establishment? Unusually for a French couturier, it was easier to find the surname Thevenot in New Zealand newspapers than in other online searches. In 1948 and 1949, there was a small flurry of articles noting the arrival of "M. Rene Thevenot, the first Parisian couturier to take up an appointment in New Zealand […] to become lecturer in dress designing at the Home Science School of the University of Otago. M. Thevenot is a lively, blue-eyed young Frenchman; full of vigour and enthusiasm for his new appointment" began one article. 5  
Photograph of M. Rene Thevenot from the Otago Daily Times, 30 May 1950, page 6.  
Reproduced courtesy of Allied Press Ltd for non-commercial use under a Creative Commons New Zealand BY-NC-SA licence.  
In what now sounds dangerously close to stereotyping, interviewed while still on board the Mataroa in Port Chalmers, he was said to have "waved his arms expressively towards the nearby hills. It was very beautiful, he said, and he was keenly looking forward to going ashore… Coming from Paris had its disadvantages, M. Thevenot said, for there were currency problems to be overcome. All he had been able to take out of France was £15, and he ruefully delved into his pocket to exhibit a few small coins. 'That is all I have left,' he said — '1s 7d.'" 6 
He also remarked that he was surprised to find that his school student English "and the little he had picked up in France was standing him in good stead. He acquired more fluency with English on the voyage out, and is now quite confident in his speech". 7  
So soon after the end of WWII, his personal experience of the war was still of interest here. He was described as "wearing the jacket of the Free French Forces and the ribbon of his Croix de Guerre, won in fighting in the Marine Infantry in France during the closing stages of war", when he arrived. 8 The Bay of Plenty Times reported that "When war came to France M. Thevenot was in Vichy territory: nevertheless, as he explained, he did 'odd jobs' for the Resistance Movement, though still a schoolboy. Then came a period at the military college [St Cyr], and, eventually he joined in the final move that pushed the Germans out of France only to find himself wounded in Alsace". 9 Its reporter also enquired about his longer-term plans, which then included purchasing a motorcycle so that he could see as much of the country as possible during his stay, and to travel back to France via Tahiti.  
Fashion predictions did get a look in: "Women's styles, said the traveller, would not show any great difference during the coming season, except perhaps that the hems of frocks were likely to be a few centimeters higher from the ground than previously". 10 Elsewhere he mentioned that he had time to see the 1949 collections in Paris, before he left France. "The tendency was toward a slight shortening of the skirts, which appeared to be stabilising at 12 inches from the ground. The waistline which had been high last year, was now a little lower, sometimes with small, false hips. Feature [sic] of the new styles were kimono sleeves coming straight from sloping shoulders without seams and three-quarter length". 11 "Deep and sharp V necklines were favoured. Hats were either very large-brimmed or very close-fitting, with short hair styles. The colours most used were black, yellow and pink and there were many checks and some flowers". 12 
There were also more details of his professional background. He said he had "always wanted to secure an overseas appointment, and was offered this opportunity through the organisation of dress designers in Paris"; and that his "family had been in the dress designing business for many years and his father owned a very large establishment in Vichy, one of the leading fashion centres of France. He studied under his father and worked with him in his business. He also did dress designing in Paris." He had brought with him "magazines and his own drawings and notes on current fashions as well as on the principles of dress designing". 13  
'COUTURIER SUIT, designed by M. Thevenot, featuring stiffened coat over a narrow skirt with uneven hemline. A stock at the throat and large flat hat complete the outfit', from the Otago Daily Times, 28 June 1949, page 2. 
Reproduced courtesy of Allied Press Ltd for non-commercial use under a Creative Commons New Zealand BY-NC-SA licence. 
In August the ODT had a photograph of five Home Science students wearing evening dresses designed and made under his supervision. "'Although I helped many of the girls with the design and fitting of their dresses,' said M. Thevenot, 'yet some of the others […] chose their own design and made it themselves. All of them, however, have learnt that a frock, like any good garment, needs a lot of work underneath'". 14 
The New Zealand Retailers' Federation also enjoyed the "direct link with the Paris design trade" his visit represented and paid tribute to the enterprise of the University in bringing him to New Zealand, and in particular the initiative of the senior lecturer, Miss A M Bowbyes. 15 Design staff from clothing factories in various parts of New Zealand had appreciated an opportunity to gather at Dunedin for a course of instruction from him in 1949. 
Nevertheless, he concluded after his time here that "Women in New Zealand were not fashion-minded as they would be on the Continent, and they usually looked for the comfortable or practical aspect in an article of clothing rather than for the 'chic' one." 16 
Despite telling an ODT reporter that "Dunedin is a cold, wet and rather dull place for the stranger", 17 Rene met and married Margaret Corbett, during his 15 months here. 18 The couple left Dunedin at the end of May 1950, planning to spend a few days in Wellington, and then fly out to France on 6 June. He said then they intended to spend some time in Vichy, after which he would look for a job in Paris.  
It would seem that Patricia Coleman kept in contact with her former colleague, and it was that friendly connection which enabled her to undertake the valuable last two months of her French study leave, and to make the jacket we now have in our collection. We can see connections between his comments on the limitations of the dress making industry in New Zealand – for example that "there was no parallel here to the long and painstaking apprenticeship in detailed hand work which was required by French manufacturers of top-quality garments" – and hers in writing to describe the revelations of the Paris course. 
On returning to Dunedin Patricia Coleman resumed work in the Department, and her impressive career there included 25 years – from 1961 – 1985 – as Dean of the School. 19  
1 Journal of the Association of Home Science Alumnae [JAHSA] 1953 Vol XXII: 63  
2 JAHSA 1954, Vol XXIII: 81  
3 JAHSA 1954, Vol XXIII: 81  
4 JAHSA 1954, Vol XXIII: 81 
5 Otago Daily Times, 18 April 1949: 4  
6 Otago Daily Times, 20 April 1949: 4 
7 Waikato Independent, 9 May 1949: 6 
8 Otago Daily Times, 18 April 1949: 4 
9 Bay of Plenty Times, 7 May 1949: 5 
10 Bay of Plenty Times, 7 May 1949: 5 
11 Waikato Independent, 9 May 1949: 6 
12 Otago Daily Times, 18 April 1949: 4 
13 Otago Daily Times, 18 April 1949: 4 
14 Otago Daily Times, 26 August 1949: 2 
15 Otago Daily Times, 14 November 1949: 4  
16 Gisborne Herald, 24 August 1950: 9 
17 Otago Daily Times, 30 May 1950: 6 
18 Otago Daily Times, 14 March 1950: 1 
All newspaper quotations are from online copies available through the Papers Past website, operated by the Te Puna Mātauranga o Aotearoa / National Library of New Zealand.