Enter the Museum Collection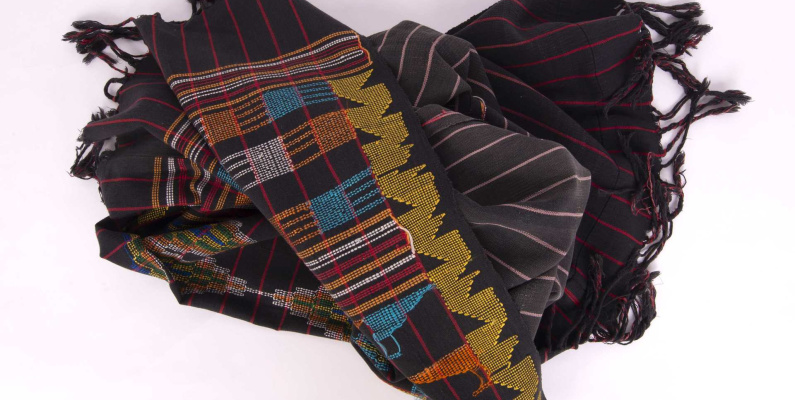 On Thursday 7 February, a new display will open in the People of the World gallery at Otago Museum.
New items continually enter the Otago Museum's collection through gifts, bequests, and purchases. ENTER is a display of some of these items, showing some of the recently acquired ceramics and textiles.
The work of Otago's internationally significant ceramic artists and their predecessors has been a focus for the Museum's Collections team over the last two years. In line with its Collection Development Strategy, the Museum has also filled some gaps in its ability to illustrate 19th and 20th century textiles and fashions, either worn or made in Aotearoa, and has been given groups of stylish accessories, in the form of gorgeous parasol handles and West African textiles, both of which have unexpected connections to Otago.
Moira White, Otago Museum Curator, Humanities says, "The African textiles donation came about because the North American donor (Leo Barrington) is a friend and former colleague of one of the Museum's Honorary Curators, Joel Vanderburg. Leo stayed with Joel when he came out to New Zealand recently, and since they share an interest in African material culture, visited the Museum to see our collection. After he returned to the States, he wrote to offer us some of the textiles, which we were delighted to accept."
The parasol handles are from the Eppinghoven collection. The Dunedin-based Harris family was asked to preserve some of the personal possessions of Louise Marie Alexandrine von Eppinghoven (1894–1966) before she died in Europe. Louise Marie was the granddaughter of King Leopold I of Belgium. Her father, Baron Arthur von Eppinghoven, was the son of the king's last mistress, Arcadie Claret, and her mother, Anna Lydia Harris, was the daughter of Sir James Charles Harris, British consul at Nice (1884–1901).
Image: Elaborate parasols with rich handles of porcelain, ivory or semi-precious stones became popular fashion accessories for the affluent in the last quarter of the 19th century. E2014.23. Eppinghoven Collection; Otago Museum Collection. 
Moira says, "We look forward to hearing the conversations sparked by this display, which might include stories of gendered labour, creative imagination, transmission of skills, or the relationship between humans and the world around them." 
---
Top image: Woman's woven wrap from the Nupe people of central north Nigeria. D2018.12. Gift of Leo Barrington; Otago Museum Collection.