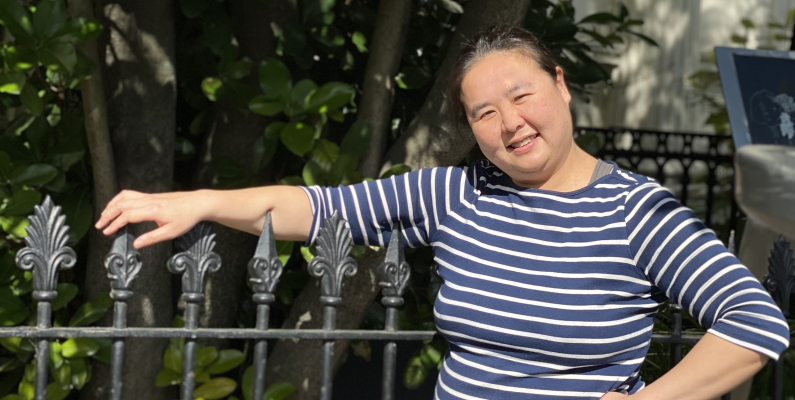 Tēnā kotau mai Rēkohu! Tēnā koutou mai Wharekauri! Greetings from Chatham Island!
So what is the Otago Museum's Assistant Collection Manager for Natural Science doing on Chatham Island? Well, I've joined my partner on a bit of an adventure over the next four months. My partner is a Senior Lecturer in the Department of Zoology at the University of Otago conducting research on the freshwater fish and invertebrate communities on the island's many lakes and streams. I'm continuing my work for the Otago Museum remotely, working with collections data stemming from cataloguing projects in the past year (more on that in another post). And while I'm here, I will also be supporting outreach with the local schools and community, revisiting places that were the likely locations of origin for some of Otago Museum's collections, and assisting in freshwater research on my spare time.
Over these next few months, I will be reporting back periodically on my observations and writing about some of Otago Museum's connections to Chatham Island (hereafter referred to by the Moriori name Rēkohu). In this segment, I'll bring you to the bush and forest areas that are home to a diverse and unique flora and fauna, including birds like the buff weka and parea (the Chatham Island pigeon that looks like a bulked-up kererū). These were also originally habitats for species like the critically endangered karure/kakaruia/black robin that are currently holding on in the smaller nearby islands.

Images: Henga Scenic Reserve Track – kopī forest (left) and dunes looking out to Petre Bay (right). Photos by On Lee Lau. 


One of the first areas we explored during our first week on the island is the track through Henga Scenic Reserve, managed by the Department of Conservation on the mid-west coast of Rēkohu. On this track, we are greeted by a mature grove of kopī trees, the species called karaka (Corynocarpus laevigatus) on the mainland, before meandering along limestone bluffs next to a big dune that leads down to the beach. There are some rustling sounds coming from the forest as the track traverses the edge of a paddock in the first section, and we spot an adult buff weka followed by two chicks that chirp at us as we walk past. They were a bit too fast for me to get a good photo, so here is a photo of buff weka by a fellow Otago member of iNaturalist NZ.*



Image: Buff Weka (Gallirallus australis ssp. hectori). Photo by John Barkla, CC-BY. 


Buff Weka were brought to Rēkohu in 1905 from Te Waipounamu/South Island and is now a common and abundant bird that is even considered to be a pest in some conservation areas due to their scavenging habit that can disrupt other threatened species. All four subspecies of weka - including buff weka, are protected on the mainland due to their small populations, but buff weka are legally hunted on Rēkohu and sometimes get caught in possum traps. I have actually had a taste of weka in a stew during a previous visit in 2019.
Buff weka were once common in Otago before they became locally extinct in the 1930s. Rēkohu essentially served as an ark for this unique subspecies. Conservation of the buff weka has yielded some success, such as an initiative by Kāi Tahu supported by the Department of Conservation and other partners in which 30 birds were translocated from Rēkohu back to Te Waipounamu in 2001-2002 and now breeding on protected islands in Lake Wānaka. The photo above is actually one of the birds from the Lake Wānaka area. Visitors to the Otago Museum can see a taxidermy buff weka in the Southern Land Southern Peoples gallery in the mahika kai display.

Image: Awatotara Private Reserve. Photo by On Lee Lau. 


Next, we explore a more advanced track along the southwest coast of the island at the Awatotara Private Reserve, with permission of the landowners Bruce and Liz Tuanui. This is a good spot to find parea, which is considered a nationally vulnerable bird and the population was estimated to have hit a low of 45 birds in 1989 due to predation by feral cats, ship rats, possums and weka. We spot dozens of Goodnature pest traps in the first kilometre of the track going through a pine forest, tree fern grove, and then into the distinctive native bush.

Image: Parea (Hemiphaga chathamensis) giving us a close look. Photo by On Lee Lau. 


Our first encounter with parea is after we've inadvertently disturbed it with a loud snap from a cracked supplejack vine - we hear a characteristic swoosh and thud of a large pigeon settling on a branch about 5 metres away. Parea spend more time on the ground than kererū , and the next parea we see is foraging on the track ahead of us beside a fence separating the reserve from the adjacent paddock. This is an opportunity to use my new camera lens that zooms all the way to 400mm. I snap close to 30 photos within a few minutes while slowly approaching before it decides that I've come close enough and flies into the valley. 



Images: Awatotara Private Reserve – steep section down to rocky shore (left) and native bush (right). Photos by On Lee Lau. 


The track leads us to scrabble down to the bottom of the cliff (possibly an exaggeration but it is really steep!) and to a remote rocky intertidal shelf. We make our way up the other side of the valley on our return, and see our last parea of the day doing an aerobatic display gliding, flapping, and swooshing its way up the valley. In addition to these bird sightings, I have also noticed some orchids and ferns along the track, including this Tutukiwi orchid, which is to be commended for its green camouflage.  



Image: Tutukiwi, a Chatham Island greenhood orchid (Pterostylis silvicultrix). Photo by On Lee Lau. 


High on my list for birds I'm keen to see in the wild is the Chatham Islands black robin ('karure' in Moriori and 'kakaruia' in Māori). They are now only found on Mangere (also called 'Maung'Rē' in Moriori) and Rangatira islands (also called 'Hokorereoro' in Moriori or South East Island) near Rēkohu with a population of less than 300 birds. In 1980, this species was very close to extinction with only 5 remaining birds including one breeding pair, Old Blue (female) and Old Yellow (male), from which all current birds are descended. While this could have been a tragic story of recent extinction, it is not, and this is because of the efforts of dedicated people that have been working to restore their habitats and conserve the species. The breakthrough came when then New Zealand Wildlife Service staff decided to use another species, the Chatham Island tomtit, to foster eggs and young of the karure to boost their productivity. 



Image: Karure (Petroica traversi) taxidermy mount at Otago Museum. AV8214 © Otago Museum 


One of my favourite birds in Otago is kakaruwai, the South Island robin, because of their inquisitive nature, so finding out that their close relative is so rare drives me to seek them out and bring attention to their conservation.
There are an estimated 52 different bird species that live on the Chatham Islands group, and at least 18 of those bird species are endemic and found nowhere else in the world. The Otago Museum has several of Chatham Islands' native birds displayed in the Southern Lands Southern Peoples gallery and bird eggs in Animal Attic gallery. The species include: Chatham Island snipe (nationally vulnerable), Chatham Island rail (extinct), Chatham Island shag (nationally critical), Pitt Island shag (nationally critical), Northern giant petrel (recovering), and a few more that are kept in collections storage.
In my next blog, I'll bring you to the island's beaches and rocky shores where sea shells are found in abundance and talk about some of the interesting marine gastropods (i.e. snails and limpets) that are found on the island and also on display in Otago Museum's Animal Attic!
Me rongo. With Peace.
* You can follow my iNaturalist observation updates under my handle 'ollau' at www.inaturalist.nz/observations?place_id=any&user_id=ollau&verifiable=any