The Enduring Rose: Cultivating Fashion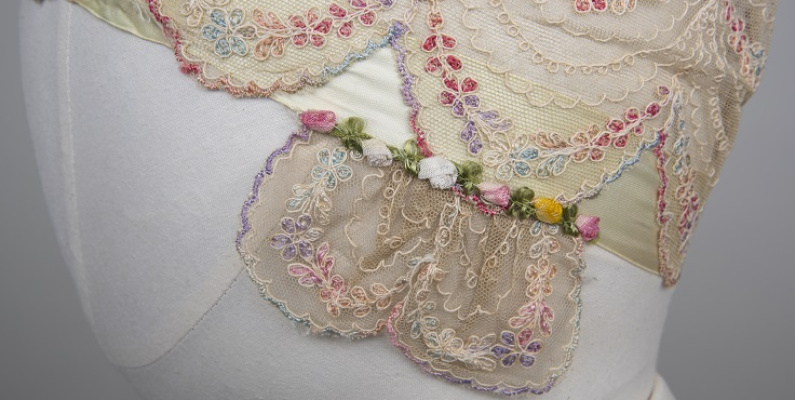 The rose, more than any other flower, has inspired illustration and imagination. The unmistakable scent, the graceful beauty, the delicate petal texture of the rose bud and bloom, the unforgiving nature of its thorns – all these are familiar images and remembered sensations.  Many cultures have praised and painted the rose; preserved its petals; made medicines and cosmetics from it; used it as a poetic metaphor, household emblem or symbol of love; and strewn images of it on clothes and accessories. 
The red rose has become a symbol of Valentine's Day, 14 February, and roses of all colours are also intertwined with fashion, perhaps because they are luxurious and ephemeral too. Otago Museum held an exhibition 'Clothed in Roses' in 2004-5 showing a wonderful variety of collection fashion that featured roses in some form or other. This year's Fashion Forward: Disruption through Design exhibition has more examples.   
The imagery of roses can be woven into the fabric used in garments, printed or painted on the surface, embroidered in thread, beads or ribbon, appliqued, painted or crafted in three dimensions then appliqued to the finished garment whether evening dress, trousers, shoe or hat.  In Fashion Forward, roses can be found in some of the fabric hexagons patchworked into a 1950s dressing gown,  
embroidered on a Victorian apron,  
printed on an 1890s dress fabric  
and as little 3D ribbon forms on boudoir caps.  
True, roses appear on women's clothes more often than on men's, but they can be found in naturalistic or stylised forms on ties, shirts and T shirts, and men continue to wear a rose on their lapel for weddings or other special occasions.   
Comparison to a rose is often suggested by a resemblance of shape or form.  The compass rose, a watering can rose, the rose windows in Gothic cathedrals, and all manner of decorative rosettes evoke or are based on the full round form of an open rose flower. Roxanna Zamani's dress in Fashion Forward was based on architecture rather than a rose, but its petal-like effect is very like a full-blown Damask rose. 
Rosettes, a more stylised form of the rose flower, have made a fashionable, ceremonial or political statement since the French Revolution. 
The overlapping layered petals, or the manner in which the rose bud opens, have been imitated in the forms of garments or layers of clothes draped on the body.  The colours of roses have inspired many a dress or outfit: rose pink for a demure, innocent look, scarlet for passion, and yellow for mature elegance. 
 Roses seem to feature in periods of fashion where there is a need for romance or hope, or where there is a sense of prosperity and peace.  The Victorian and Edwardian periods, the 1920s, 1950s-60s and the early 2000s may not have very much in common, but perhaps choosing a rose-covered garment provided a momentary escape from the pace of change. 
 A few fashion designers seem to be particularly associated with roses.  Some of Christian Dior's New Look designs from 1947 relied on rose-ruffles for their shape, and he also embellished dresses with fabric roses, which became known as Dior roses.  Earlier, Jeanne Lanvin was fond of creating floral patterns, often roses, in appliqué and embroidery. Valentino, Elsa Schiaparelli, Laura Ashley, Ungaro, Karl Lagerfeld for Chanel, Christian Lacroix, Vivienne Westwood, John Galliano and Alexander McQueen have also featured roses in their designs. Designers in Fashion Forward often have more immediate concerns on their minds, but do still reference the natural world in their garments.  

By Moira White and Jane Malthus