The Travels of Tuna: New Zealand's largest migrating fish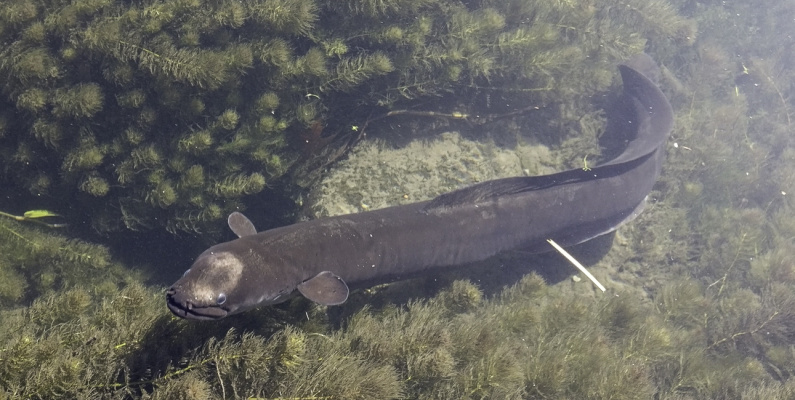 In New Zealand, tuna is the common Māori name for two different fish species, the longfin eel (Anguilla dieffenbachii) and shortfin eel (Anguilla australis).* They are some of New Zealand's largest native fish living in freshwater lakes, rivers, and streams; with the longfin eels growing up to two metres long and weighing 25 kilograms.
The story of New Zealand's tuna actually begins and ends in the Pacific Ocean near Tonga, where researchers have determined is the most likely destination for their epic migration from New Zealand to their breeding grounds. Young eel larvae, called leptocephali, drift on ocean currents over 2000 kilometres to New Zealand where they grow to become glass eels, then into elvers that make their way upstream into freshwater habitats. The tuna continue growing until they are sexually mature and ready to migrate back into the ocean to spawn, then die. Mature tuna are typically between 20 – 40 years old, but tuna individuals may live up to 80 years or more!

Image: Illustration of tuna (above) and tuna heke (below). © Emma Burns 
Image: New Zealand Longfin eel, Anguilla dieffenbachii. Photo by Shaun Lee, CC-BY.
Tuna heke is the phrase used to describe mature eels that migrate to the sea to spawn. These migrating fish stop feeding and undergo many physiological changes to prepare for their six-month journey. Their eyes become larger, their fins become larger and darker, their heads become flatter and more torpedo shaped, and the colour becomes lighter grey or silver bellied. Males and females tend to start their migration in different times of the year, with males leaving earlier than females.
Eels are a valuable food source around the world. Freshwater eels are eaten as 'unagi' and marine eels as 'anago' in Japan. Baby or glass eels are one of the most expensive foods in Spain where they are eaten as 'angula'. In New Zealand, eels were traditionally the most important freshwater fish for Māori and are a taoka species. Tuna are caught using hīnaki (eel basket traps); some methods involve baited baskets, others involve diverting eels through channels into baskets. At Otago Museum, visitors can see an impressive traditional woven hīnaki hanging overhead in the Southern Land, Southern People gallery with a cast model of a tuna positioned to swim into the trap.

Image: Freshwater eel, Anguilla sp. VT3025. © Otago Museum
Across the world, many species of fish, including eels, are now endangered or determined to be very vulnerable to climate change (see the IUCN's ongoing work on a Global Freshwater Fish Assessment). In 2020, Te Wai Māori published a report by NIWA (National Institute of Water and Atmospheric Research) scientists that profiled the risk to 10 taoka freshwater fish species to climate change. Both tuna species rank as highly vulnerable to impacts of increasing drought, increasing temperatures, and changes in ocean circulation patterns.
Also in 2020, the Living Planet Index was published by the World Fish Migration Foundation highlighting evidence for global decline of migratory freshwater fish populations by an average of 76% between 1970 and 2016. This means that, on average, there are only 24% of freshwater fish - such as salmon, catfish, and eels, compared to the number of fish that would have been found in 1970. The intensity of this decline differs amongst species and regions of the world, but the trend is consistent and disturbing.

Image: Hīnaki. D10.79. © Otago Museum
World Fish Migration Day began to call attention to the need to restore river connections for migrating fish. The Department of Conservation will be on-hand at Otago Museum to celebrate World Fish Migration Day on 24 October 2020.
Top image: New Zealand Longfin eel, Anguilla dieffenbachii. Photo by Sean Clifford, CC-BY.
 *Eels are fish that belong to the order Anguilliformes. There are over 800 species within this order and they live in marine or freshwater habitats around the world.
References
Brander K. M. 2007. Global fish production and climate change. Proceedings of the National Academy of Sciences 104 (50) 19709-19714. DOI: 10.1073/pnas.0702059104
Department of Conservation (DOC).  doc.govt.nz/nature/native-animals/freshwater-fish/eels/
Deinet S., Scott-Gatty K., Rotton H., Twardek WM., Marconi V., McRae L., Baumgartner LJ., Brink K., Claussen JE., Cooke SJ., Darwall W., Eriksson BK., Garcia de Leaniz C., Hogan Z., Royte J., Silva LGM., Thieme ML., Tickner D., Waldman J., Wanningen H., Weyl OLF., Berkhuysen A. (2020) The Living Planet Index (LPI) for migratory freshwater fish - Technical Report. World Fish Migration Foundation, The Netherlands. worldfishmigrationfoundation.com/lpi-migratory-freshwater-fish-2020/
Drouineau H., Durif C., Castonguay M., Mateo M., Rochard E., Verreault G., Yokouchi K., Lambert P. 2018. Freshwater eels: A symbol of the effects of global change. Fish and Fisheries 19(5):903-930. DOI: 10.1111/faf.12300
Free CM., Thorson JT., Pinsky ML., Oken KL., Wiedenmann J., Jensen OP. 2019. Impacts of historical warming on marine fisheries production. Science 363:6430:979-983. DOI: 10.1126/science.aau1758
Hoyle SD., Jellyman DJ. (2002). Longfin eels need reserves: modelling the effects of commercial harvest on stocks of New Zealand eels. Marine and Freshwater Research 53: 887-895. www.publish.csiro.au/paper/MF00020
IUCN Freshwater Biodiversity Unit. (in progress) Global Freshwater Fish Assessment www.iucn.org/theme/species/our-work/freshwater-biodiversity/our-projects/global-freshwater-fish-assessment
Keane, B. 2007. Te hopu tuna – eeling. Te Ara - the Encyclopedia of New Zealand. teara.govt.nz/en/te-hopu-tuna-eeling/  
National Institute of Water and Atmospheric Research (NIWA). Tuna - freshwater eels in New Zealand. niwa.co.nz/te-kūwaha/tuna-information-resource/freshwater-eels-in-new-zealand
National Institute of Water and Atmospheric Research (NIWA). Assessing the vulnerability of taonga freshwater species to climate change. niwa.co.nz/te-kuwaha/ccva or waimaori.maori.nz/ 
Ringuet S., Muto F., Raymakers C. 2002. Eels: their harvest and trade in Europe and Asia. TRAFFIC Bulletin 19(2). www.traffic.org/site/assets/files/9378/eels-their-harvest-and-trade-in-europe-and-asia.pdf
Science Learning Hub – Pokapū Akoranga Pūtaiao. 2019. Longfin eels. www.sciencelearn.org.nz/resources/441-longfin-eels
Manaaki Tuna. www.longfineel.co.nz/