Blumhardt Foundation means more art at Otago Museum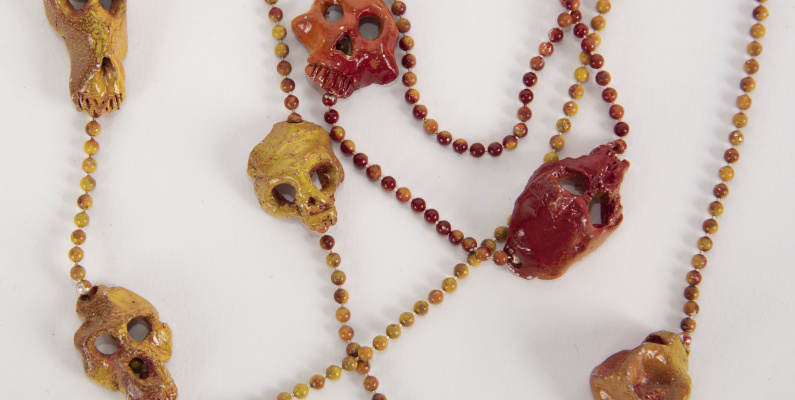 The Blumhardt Foundation was founded in 2003, by ceramist and arts educator, Dame Doreen Blumhardt (1914 – 2009), in order to foster, support, collect, and display the best examples of decorative arts and design in New Zealand.
With the support of the Blumhardt Fund, Otago Museum has recently acquired an exciting group of additions to the crafted corner of our collections. It's a field in which the Museum has collected for about three-quarters of a century, but with different emphases at different times. This partnership has meant an exciting opportunity to address some of the more obvious gaps in areas of the collection, update, and approach specific makers.
In the first year of working with the Blumhardt Foundation we thought largely local; not only Otago, but mostly. This blog introduces the work of the wonderfully talented Ōtepoti craftspeople and artists, with national and international profiles, that the Blumhardt Fund's benevolence has enabled us to acquire.
Our first purchase was Octavia Cook's acrylic and silver brooch, Stolen Jewels. Cook graduated from Unitec Institute of Technology, Auckland, with a Bachelor of 3D Design in Jewellery in the 1990s, but now lives in Dunedin. In 2011, she was selected for Schmuck, a prestigious annual showcase of contemporary jewellery art in Germany. A retrospective of her work was curated by The Dowse Art Museum in 2012. Stolen Jewels was inspired by a detail of the skin of Manawa, the moko kākāriki/jewelled gecko who was smuggled from Otago to Germany in 2013; and repatriated in 2016. We still mourn Manawa, himself, but the brooch offers an opportunity to engage in conversations about issues such as wildlife poaching and biosecurity concerns.

Stolen Jewels by Octavia Cook. F2021.2. Blumhardt Fund; Gollan Fund; Otago Museum Collection. Photograph by Jen Copedo. 
Stella Lange lectures in the School of Design at Otago Polytechnic, is co-President of the Costume and Textile Association of New Zealand, and a skilled maker with research interests in the area of textile craft and repair. She also writes an occasional blog, – knit, knit, frog – "mostly about knitting". She shared her thoughts about mask-making during New Zealand's first COVID lockdown in a post there: "If I was going to wear a mask - I wanted my mask to better represent me. I began to embroider some masks - to see where this would take me, using the tambour technique I have been working with for nearly a decade. I began with the phrase - 'Be Kind', one Jacinda Ardern used to guide New Zealanders to be supportive of each other".
In a later article, she showed other masks worked with 'Thank you', 'Hello', '2m please', and a smile graphic. She asked friends and colleagues what they wanted their masks to say. "Making these masks provided a space for me to think about the world, about New Zealand." 1

Be Kind mask made by Stella Lange August-September 2020. G2021.17. Blumhardt Fund; Fels Fund; Otago Museum Collection. Photograph by Stella Lange. 
Jane Dodd grew up in Ōtepoti, but studied jewellery at Unitec in Auckland, and then joined Workshop 6 – a shared Auckland space for contemporary jewellery graduates. In those years, southern followers could still see her work at Lure, in lower Stuart Street. Dodd has now returned to Dunedin where she works from her home studio. A major review of her work – Wild Domain: The Natural History of Jane Dodd Jewellery – was held at the Dowse Art Museum in 2021; as they described it as "a whirlwind tour of Dodd's critical, humorous and touching journey to help us recognise our intrinsic relationship to nature and the planet we all share".
Mates – think of it as short for Primates – is an evolutionary necklace in which casts of small modelled examples of a selection of primate skulls are separated by sections of more traditional, small, spherical beads. Physically, the length and structure also allow a visualisation of the sort of non-linear connections and unexpected interactions we hear of from the world of ancient DNA research. It is part of a series in which Dodd positioned the human species within the Animal Kingdom.

Detail of Mates by Jane Dodd. F2021.1. Blumhardt Fund; Lyders Fund; Otago Museum Collection. Photograph by Jen Copedo. 
Blue Black's If I was a Flower, purchased through Quadrant Gallery in Moray Place (started in 2007 by Dunedin jeweller and sculptor, David McLeod, and partner Anne Jackman), added a new ceramicist to our collection, and one with an original style of working.
Black gained a Diploma in Ceramic Arts with Honours and a Master of Fine Arts from the Dunedin School of Art. He has exhibited widely in New Zealand in group and solo shows, and twice been a finalist in the prestigious Portage Ceramic awards.
In his own words: "As a process driven maker what I do with clay all starts with foraging in friends' garden waste, gardens and recycling collections. Like a little pack rat I drag collected things back to the studio such as flowers, vegetable and plant roots... As a maker of ceramic objects I give most things a go with dipping them in layers of clay slip".

If I Was a Flower by Blue Black. F2022.24. Blumhardt Fund; Lyders Fund; Otago Museum Collection. Photograph by Jen Copedo. 
Victoria McIntosh's Fat Pants – created from vintage underwear, a found clasp, and ribbon; hovering between apparel and accessory – will be familiar to supporters of Dunedin's 2020 Fringe Festival, where they were part of the White Box installation, '(a)version,' a collaborative mixed media response by Iona Winter and Victoria to the way our world defines beauty, gender and ageing. It was also displayed during Nelson's inaugural Jewellery Week in 2021, and Costume and Cause' at the 'Gallagher Academy of Performing Arts, Waikato University later that year. It's part of an ongoing series of handbags made from vintage undergarments that seek to discuss ideas of body image and autonomy; in her own words: "the aging body, the damaged body, the less than perfect body and how this body is viewed within society".
McIntosh's practice moves between wearable jewellery, soft sculpture, and assemblage. She works with found objects, telling interwoven personal and political stories.

Fat Pants by Victoria McIntosh. G2022.10. Blumhardt Fund; Gollan Fund; Otago Museum Collection. Photograph by Jen Copedo. 
Carver and jeweller, Craig McIntosh, has been working with stone and pounamu for more than two decades, and was the inaugural recipient of 'Dame Doreen Blumhardt's Gift', in 2016. A major solo exhibition, Groundwork, was shown at Objectspace in Auckland the following year. He's been quoted as saying 'My work has always been about the world around me', and has a particular interest in the ways that techniques of production impact our response to objects. He exhibits his work nationally and internationally. This set of buttons, made from a piece of Oraka pakohe, provides an elegant nod to our dress collection, with the contrast between gloss and matt finishes intensifying the impact.  

Set of pakohe/argillite buttons. G2022.9 Blumhardt Fund; Fairweather Fund; Otago Museum Collection. Photograph by Jen Copedo. 
And, for a completely different approach to embroidery, work that has very recently been on display in B-Sides, Rarities and Treasures from the Dunedin ​Public Art Gallery Car Park, Jay Hutchinson's solo exhibition at Olga Gallery, in Moray Place. As their website said, "Hutchinson inflects his needlework with a 'street' sensibility that continually challenges the high art/mass culture divide".
Hutchinson holds a BFA (2003) and an MFA (2008) from the Dunedin School of Art. We are excited about adding his rendition of a far-from-rubbish Jelly Tip wrapper to our images of New Zealand summers, the urban landscape, and stories told by the many other skilled stitchers with work in Otago Museum's collection.  

Jelly Tip by Jay Hutchinson. Blumhardt Fund; Willi Fels Fund; Otago Museum Collection. Photograph by Olga Gallery. 
Acknowledgments
Thank you to all the artists, their helpful galleries and, of course, to the Blumhardt Foundation.
References
1   Lange, S. 2021. 'Inspired by masks posted in a Facebook group Breathe' Context 41: 38-42