Silver Island – World Book Day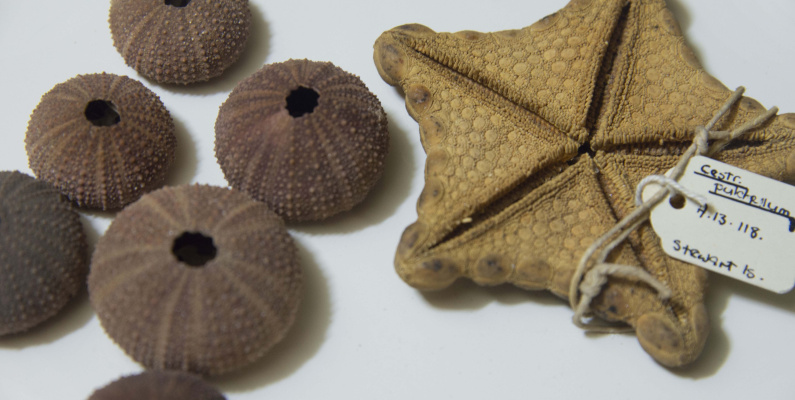 "One of the best adventure stories young New Zealand has yet been given", was the Herald reviewer's summary of Edith Howes' Silver Island, when it was published in 1928.
London-born Howes (1872 – 1954) moved to New Zealand with her family when she was about two years old. Here, she trained and worked as a teacher, and had a career as an educationalist and author with an international publishing record. She was best-known for her nature writing, initially motivated by the lack of material available for New Zealand school children that featured the landscapes, and flora and fauna of this country. The Sun's Babies, her first book, written while she was teaching in Gore, prompted her life membership of the Otago Institute, in recognition of its "literary excellence and scientific accuracy". 1 William Blaxland Benham, Curator of Otago Museum, seconded the motion for this honour.
Howes also has a role in the history of writing about sex education for children. The Cradle Ship, published in 1916, ran to 18 reprints.
Barbara Else has said that Howes' specialty "was teaching simple scientific facts in scenarios that young children would find easy to understand, by using fairies and talking plants and animals". 2

That's true, but Silver Island was completely different. A "rollicking story of outdoor days, of adventure and treasure-trove, which has the added excitement of being just within the bounds of the possible for any small New Zealander", went another review. 3 Author Tessa Duder called it "the first and still one of the best" adventure and survival stories which predated Arthur Ransome's (English) Swallows and Amazons series. 4

Three children – Enid, Jim, and 'Wuffles' Lester, aged twelve, eleven, and nine, respectively – are spending the summer break with their aunt Kathleen and uncle Jack, who live in a red-roofed, white-walled house in Home Bay on 'the smallest, most southerly, and most exquisite of the islands of New Zealand'. 5 The even-smaller, uninhabited, nearby Silver Island, (perhaps bearing a relationship to Ulva Island/Te Wharawhara), catches their imagination after a Christmas picnic and they plan a secret expedition…
It's a tale full of 'stunner' gingerbread and apple pasties, conveniently absent adults, iron pyrites ('new-chum's gold') and mica, a hidden cave, plentiful and easily-caught blue cod, a remittance man, and skilfully described birds, bush, and shorelines.
The landscape descriptions are understood to have been inspired by the months Howes spent on Stewart Island/Rakiura, during a year's leave from teaching. Journalist Arthur Grinling – apparently introduced to Howes' work by Benham – interviewed her at Half Moon Bay in 1913, when she was "at white-hot enthusiasm over her pet project", and offered a glimpse of her work process. He began, "It has been left to Miss Edith Howes to introduce me to a new seaside recreation—a hazardous and reckless something called "Collecting,'' for Miss Howes is seized with the idea of harnessing the sea in the service of education… The rock-pools were a favourite hunting ground, the spoil being sea urchins, starfish, anemones, sea slugs and sea cucumbers, periwinkles, crabs, oysters, and pipis, to say nothing of the seaweeds and the worms... When the spoil had been "collected" in tins and buckets and other receptacles, it was deposited in a sea water aquarium, in order that Miss Howes might observe the habits of these sea creatures. A camera also was brought into play, for the indefatigable authoress is learning photography that she may take pictures of these creatures in their own haunts, and thus provide illustrations for her books… What to me was the dreary waste left by the neap tide was to Miss Edith Howes a paradise of pleasure." 6 Grinling also noted a bookshelf in Howes' room that held "a number of volumes containing information concerning these sea creatures", thereby adding to the sources who comment on how well-and-widely read Howes was, and how hard she strove for scientific accuracy.
Otago Museum's collection has a small number of the marine invertebrates she collected at Rakiura, including sea urchins and starfish, as mentioned by Grinling.



Pseudechinus albocinctus (urchins) and Pentagonaster pulchellus (starfish), IV15050; IV14940. Gift of Edith Howes; Otago Museum Collection.
Photograph by Cody Phillips.


Howes published a 35-page booklet titled Stewart Island with Whitcombe and Tombs in 1913, which included photographs, poems, and short creatively written sections on the island, the sea, bush, islets, and birds.
Silver Island was also published by Whitcombe and Tombs, but a decade and a half later. I enjoyed being able to examine the signed first edition that is part of the McNab New Zealand Collection at the Dunedin Public Library in Moray Place. It's a hardback with wonderfully thick paper pages. The front cover shows a sailing dinghy near a shoreline with large trees behind. There are five full-page illustrations inside (one, the frontispiece, in colour) by Kathleen W. Coales who, coincidentally, like Howes, is better known for her fairies than for children fixing billy-tea campsites.
Spoiler alert: the flurry of media attention on the finding – or not – of ambergris – or not – on southern Te Wai Pounamu beaches in late 2021, provided an additional point of interest when I read Silver Island last year.
There's a passage where Uncle Jack explains what ambergris is to his niece and nephews: Grey. And a nice smell… "When a whale is diseased, this queer fatty stuff is sometimes formed in its body. It is often found floating on the sea or thrown up on the beaches. We all keep an eye out for it, for it is… quite as valuable as silver. It is used in scent making". 7
Kane Fleury, Otago Museum's Assistant Curator, Natural Science, says "Uncle Jack's description is not too far from what we know now about ambergris. The fatty, waxy substance forms around sharp and indigestible things that sperm whales have eaten. Normally, it would vomit the sharp squid beaks or bits of plastic or wood up, but in about 1% of sperm whales, those indigestible bits make their way further down the digestive tract and into the intestines. The ambergris forms around them and in normal circumstances it will be excreted out with its faeces. Current estimates around the price of ambergris per kilogram is more than that of silver but not as much as gold."
He notes that awareness of ambergris is high when people hear about a big find on their local beaches, and expects interest will continue locally.
I'm hoping that interest in Edith Howes' writing will continue locally, too. Perhaps it is time for a commemorative plaque bearing her name to be added to the Dunedin Writers' Walk in the Octagon.
Acknowledgments
All newspaper articles were accessed through the Papers Past website, hosted by Te Puna Mātauranga o Aotearoa National Library of New Zealand. 
#WorldBookDay               #DunedinCityofLiterature                     #DunedinPublicLibraries
References
1 Otago Witness, 13 December 1911:6
2 https://www.thesapling.co.nz/single-post/2020/05/07/kiwi-book-memories-edith-howes-brian-sutton-smith
3 Evening Post, 3 November 1928: 21
4 http://www.tessaduder.co.nz/res_ransome.html
5 Edith Howes, 1928. Silver Island: p[9]
6 Otago Daily Times, 24 May 1913:14
7 Edith Howes, 1928. Silver Island: pp.219-20