The blog is where we'll post news, updates, information about objects in our collection, #betterworkstories, profiles of staff members and visitors, pictures and videos, and really anything we think you'd find interesting. We hope you enjoy. 
If there's a topic you'd like us to do a post about, or a post that you think needs a sequel, just let us know!
Hands-on photography workshops, solstice stargazing and the opening of a new exhibition that delves into the memories of The Chills' lead singer and songwriter Martin Phillipps – June at the Otago Museum is shaping up to be a busy one!
Words and photos by Kane Fleury, Assistant Curator, Natural Science
Recently I represented the Museum at the Ahi Pepe MothNet North Island moth camp that was hosted by Te Kura Kaupapa Māori o Te Atihaunui ā Pāpārangi and Putiki Marae in Whanganui. I was there alongside representatives from other partners Manaaki Whenua – Landcare Research, Ngāi Tahu, and Orokanui Ecosanctuary, Te Tumu and the geography departments from the University of Otago. The kids from Te Kura Kaupapa Māori o Ōtepoti also came along so that they could teach the other kura what they have learnt from being part of Ahi Pepe...
Join Prime Minister's Science Communication Prize recipients, Dr Michelle Dickinson MNZM – aka Nanogirl – and Dr Ian Griffin, the Ministry of Business, Innovation and Employment's Science Advisor Professor Hamish Spencer, together with science engagement leaders Dr Barbara Anderson (Ahi Pepe MothNet) and Professor Peter Dearden (Lab in a Box) to discuss the future of science engagement in New Zealand. Chaired by Dr Victoria Metcalf (National Coordinator, Participatory Science Platform) the panel reflects on their experiences of connecting and inspiring the public with science, and the challenges and opportunities looking forward.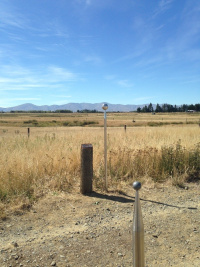 Our solar system is vast and really hard to visualise. Representations of planets are always out of scale, with the planets placed far too close together. To recreate the solar system to scale, you need room – and lots of it.
About
Our blog aims to keep you informed of the latest happenings at the Otago Museum, through posts about our collections, our people and our work.
Disclaimer
The views expressed here are those of our individual contributors, and are not the views of the Otago Museum.
Copyright
All content of this blog is Copyright Otago Museum, 2017. All rights reserved. No part of this publication may be reproduced, distributed, or transmitted in any form or by any means, without the prior written permission of the Otago Museum, except for the purposes of private study, research, criticism, review, or education, as provided for in the New Zealand Copyright Act 1994.