The blog is where we'll post news, updates, information about objects in our collection, #betterworkstories, profiles of staff members and visitors, pictures and videos, and really anything we think you'd find interesting. We hope you enjoy. 
If there's a topic you'd like us to do a post about, or a post that you think needs a sequel, just let us know!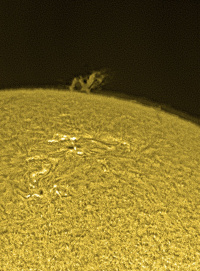 As the run of poor night-time weather has continued here in Dunedin, since the turn of the year I've had to resort to daytime observing to get my fix of astronomical excitement. Luckily despite my ongoing nocturnal misery, Dunedin's long summer days (this week nearly fifteen hours between sunrise and sunset) have occasionally stayed clear long enough for me to point a specially-equipped telescope at our nearest star. As I've mentioned previously, you must never look directly at the sun through a normal telescope or binoculars as you will damage your eyes. However, there are types of telescope (called solar telescopes)...
About
Our blog aims to keep you informed of the latest happenings at the Otago Museum, through posts about our collections, our people and our work.
Disclaimer
The views expressed here are those of our individual contributors, and are not the views of the Otago Museum.
Copyright
All content of this blog is Copyright Otago Museum, 2017. All rights reserved. No part of this publication may be reproduced, distributed, or transmitted in any form or by any means, without the prior written permission of the Otago Museum, except for the purposes of private study, research, criticism, review, or education, as provided for in the New Zealand Copyright Act 1994.