The blog is where we'll post news, updates, information about objects in our collection, #betterworkstories, profiles of staff members and visitors, pictures and videos, and really anything we think you'd find interesting. We hope you enjoy. 
If there's a topic you'd like us to do a post about, or a post that you think needs a sequel, just let us know!
Words and photos by Kane Fleury, Assistant Curator, Natural Science
Recently I represented the Museum at the Ahi Pepe MothNet North Island moth camp that was hosted by Te Kura Kaupapa Māori o Te Atihaunui ā Pāpārangi and Putiki Marae in Whanganui. I was there alongside representatives from other partners Manaaki Whenua – Landcare Research, Ngāi Tahu, and Orokanui Ecosanctuary, Te Tumu and the geography departments from the University of Otago. The kids from Te Kura Kaupapa Māori o Ōtepoti also came along so that they could teach the other kura what they have learnt from being part of Ahi Pepe...
Here's the next in our blog series introducing the science associated with some of the exciting interactives in the newly opened Tūhura Otago Community Trust Science Centre. Isobel Andrewartha, Science Communicator, Operations, shares some of her favourite terrain terminology. Terrain is the physical landscape, above and below sea level. Common features are familiar to us all: mountains, plains, hills, lakes. But there are lesser-known types of terrain out there as well; some have names you might not have come across. These are a few of my favourites: *Thalweg –* the lowest lying part of a valley (often underwater in a river). Thalwegs...
The Otago Museum, in collaboration with Landcare Research, is in the middle of a significant moth data collection project, working towards painting a broad picture of its expansive moth collection. The Museum holds one of New Zealand's most accurately documented and regionally comprehensive collections of moths, assembled by former Otago Museum Collections and Research Manager Brian Patrick. Each moth within this collection has been named, and each record includes data on where it was collected, when and by whom. The project will capture and digitise the data of over 23,000 specimens including three families of moth – Ghost moths (Hepialidae), Geometer moths...
Two terrapins, named Daphne and Heidi, live in our Tropical Forest here at the Otago Museum. They are red-eared sliders (Trachemys scripta elegans), a type of terrapin often seen as a household pet.
A guest post from the Yellow-eyed Penguin Trust about penguin feathers and moulting.
Dead bees and lime trees and mysteries.
Just like we do here at the Museum, the Otago Hospice shop occasionally gets strange items dropped off to them.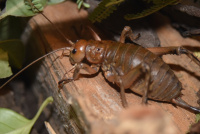 An unexpected visitor arrived at the Otago Museum recently. (Warning: large bug picture after the jump.)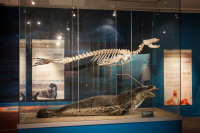 Meet Autahi, the Otago Museum's leopard seal.
About
Our blog aims to keep you informed of the latest happenings at the Otago Museum, through posts about our collections, our people and our work.
Disclaimer
The views expressed here are those of our individual contributors, and are not the views of the Otago Museum.
Copyright
All content of this blog is Copyright Otago Museum, 2017. All rights reserved. No part of this publication may be reproduced, distributed, or transmitted in any form or by any means, without the prior written permission of the Otago Museum, except for the purposes of private study, research, criticism, review, or education, as provided for in the New Zealand Copyright Act 1994.